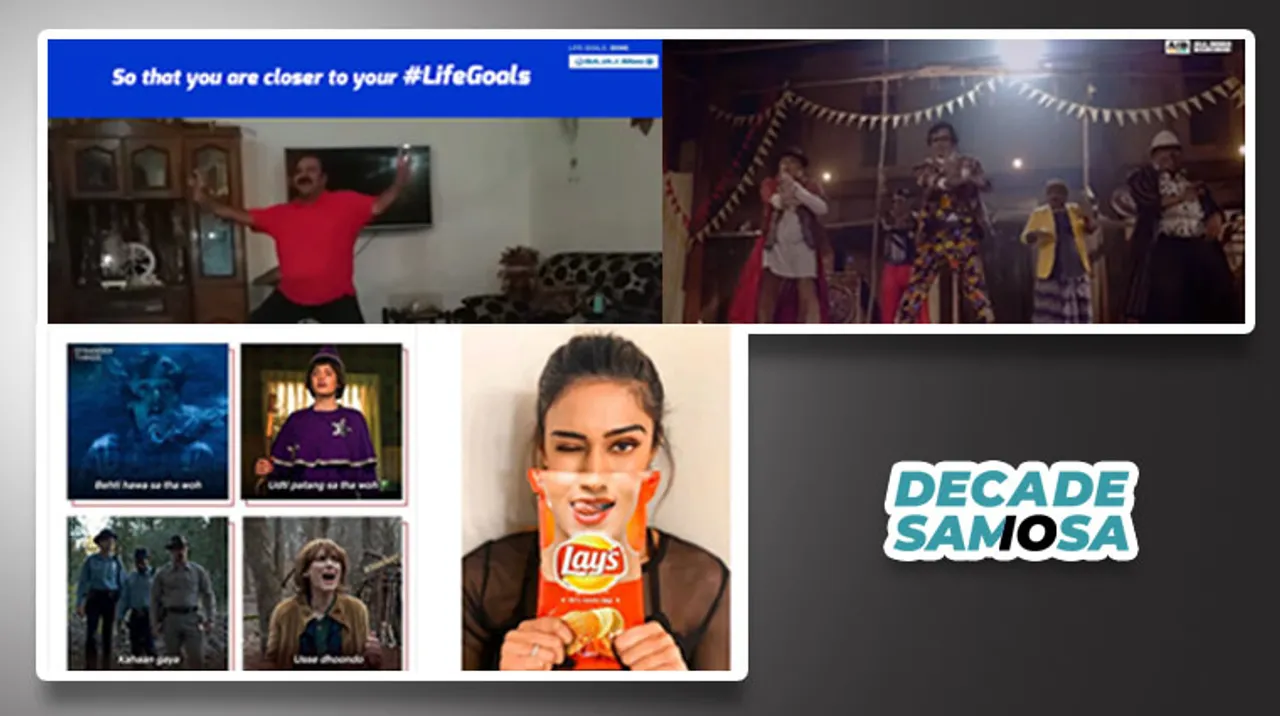 As we move closer wrap the decade, Decade Samosa takes a look at few marketing concepts that shaped the Marketing & Advertising industry.
The idiom - 'In the blink of an eye, everything can change' – sparks truth in the truest form when you think of the last decade. Marketing & Advertising industry is no different and witnessed newer definitions, trends, and axioms.
Today's consumer, sans doubt, is smarter and pro-active than they were 10 years back; brands too have resorted to newer ways to communicate with this evolving audience.
They say that today's marketing has moved on from masses to classes as marketers look forward to slicing up the consumer pie looking at a detailed insight and the evolving needs.
This chapter of Decade Samosa lists down concepts that more or less defined the M & A journey in the last 10 years.
Big Data
The four-letter word 'Data' has been considered by some, as the most hackneyed term while for a major chunk it's the staple for devising their marketing plan. If we go by the definition, 'Big Data' refers to the ever-increasing volume, velocity, variety, variability, and complexity of information.
To simplify it, there are 4.39 billion internet users in 2019, an increase of 366 million (9 percent) from January 2018. Consumer activity online is extracted in the form of data and utilised by advertisers for generating inbound leads.
Not only did the last decade see a rise in Big Data but it also saw the misuse of big data. First, five years of the decade were all about understanding and applying Big Data. The next two were about leveraging it and the last three saw the world reeling from the misuse of this mammoth of information.
2019 General Elections were termed as Big Data elections where micro-targeting enabled political parties to reach the right audience.
Influencer Marketing
Influencer marketing was probably always around - we knew it as word of mouth or review marketing I'd say. It, however, became a full-fledged marketing medium and profession for millions only this decade. Just for proof, data suggests 84 percent of marketers find influencer marketing effective and turn to influencers to increase brand awareness.
What stood out was while Influencer Marketing evolved giving way to niche targetting with micro and nano influencers there were also brands that grossly misunderstood the concept. The latter can also be attributed to the newness of the concept which is why a number of initial briefs sounded like - influencers with 5k plus followers DM.
It took a few mishaps by a few leading brands to help the entire industry learn and use the concept better.
With the progressing years, there were also brands that used influencer marketing rather innovatively. From influencer roadblocks to micro and theme influencers - we saw it all.
Post the mega-announcement of Ranbir and Alia as brand ambassadors, Lay's kicked off a mass influencer outreach program, wherein they reached out to 750+ influencers and shared the limited edition packages with them as a part of #SmileDekeDekho campaign.
The brand garnered 8.2 million consumer engagement that included organic memes.
Meme
Marketing
In the world of skippable ads, give your target audiences something to laugh and hook on to. Here memes serve the purpose. The world was going crazy over the meme phenomena and marketers saw an opportunity there. Facebook too couldn't resist itself from launching a meme making an application called Whale.  
One of the early adopters of meme marketing was Abhinav Kumar a.k.a the Trivago Guy. That man owned all the memes made on him and how.
From being an underrated marketing currency to becoming the mainstream lead, it won't be wrong to say memes have become marketers' favourite though all might not speak about it as openly. After all, wouldn't everyone want to be popular enough to become a meme organically?
Almost every web show and movie saw a meme template going viral. All the Gaitonde memes, Padmaavat memes, and Race 3 memes only made the shows more popular.
Then there were also brands like Zomato, Netflix, and Swiggy who resorted to making their own memes.
Netflix and other OTT platforms weaved memes out of their original content on an occasional basis to maintain the series recall value. Then there was Durex who used memes to make sexually laced jokes and Zomato that survived on pun memes.
Moment
marketing
Surprisingly, this decade saw the smallest of events, achievements, failures, celebrations, and even faux pas evolve into moments of conversation. The more crucial the moment, the larger the conversation and the bigger the marketing opportunity.
Thought moment marketing became a norm only in the last two years. Initially, it was restricted to occasions marked by festivals and important days. Now, it can be anything - an aunty caught praying or camera or a tea maker with pretty eyes, a boy with a mature bag or even National Personal Trainer Awareness Day (yes it exists, fortunately, brands haven't tapped on it yet. I think).
When Bajaj Allianz Life Insurance roped in the infamous Dabboo Uncle aka the Dancing Uncle to promote its plans, the strategy was hailed as one of the best moment marketing techniques. Dabboo Uncle had become a viral sensation and was making every Indian dance to his Govinda tunes.
The brand's CMO Chandramohan Mehra shared that if you are able to ride on the wave swiftly and the relevance of your message is intact you can create brand buzz and audience engagement in a short span of time. Remember to move fast.
Branded content/ Content Marketing
A concept that witnessed a great spike in the last decade due to a few very basic reasons - the tsunami of content, Jio effect, and liberty of creating content of various lengths.
This trend saw brands latching on content created by established creators and also brands themselves creating content.
Iconic examples of Branded Content would be - Kingfisher's Tu Beer Hai with TVF Pitchers, Epigamia's association with Dice Media's What The Folks.
In terms of brands themselves creating content, there are too many - Hershey's Meethe Bahane with celebrity chef, Ranveer Brar, Nykaa's YouTube strategy with content created by influencers, Pepsi Mini-Series, and more.
Earlier too brands like AMFI, Bacardi, Ola and more produced content in partnership with content creation platforms or independently to offer a distinct vertical for their audiences.
While India might not have its Lego Movie moment, we aren't way too far behind either.
For the unacquainted, Branded content is a marketing technique that involves creating content linked to a brand that allows consumers to make a connection with the brand.
OTT First Advertising
To celebrate the 60 years of an unbreakable bond, Fevicol in August this year launched a 90 second TV commercial as part of its mega campaign aired on leading GECs, digital platforms, radio, and cinema. It was also claimed to be the first time ever a brand's advertisement was placed as content on OTT platforms like Hotstar, Sonyliv, and Zee5.
Madison Digital had designed the strategy to spread the footprint of this video across various digital touchpoints. The booster plan was built to make sure it touches ~1/4 of the internet population on the day of launch itself.
While this trend made itself visible only in 2019, it holds the promise of turning int something much bigger.
Clearcode.com suggests OTT advertising offers marketers the best of both worlds—the benefits of programmatic, as well as the growing reach of streaming services. Its ad revenue expected to shoot to 60% from 45% over the next 10 years, with OTT.
Unlike traditional TV commercials, OTT may offer much shorter ads, but at the same time make them more personalized. This will be possible through targeting capabilities absent in traditional TV with geolocation, demographic data, and device information.
Marketing has evolved as brands shift from a product-centric approach to an audience-first one. Delivering the right message to the right set of consumers at the right time using an appropriate social network or medium has become a mantra to create a loyal community for the brand.
While these were the bigger concepts seen come to life in the last decade, there have been many smaller trends that rose and fell with equal fervor. Strictly in a digital marketing sense, this decade has been a great one.
The article is a part of our Decade Samosa series. Take a look at the Editor's Note to understand what sparked this initiative.
With inputs from Saloni Surti