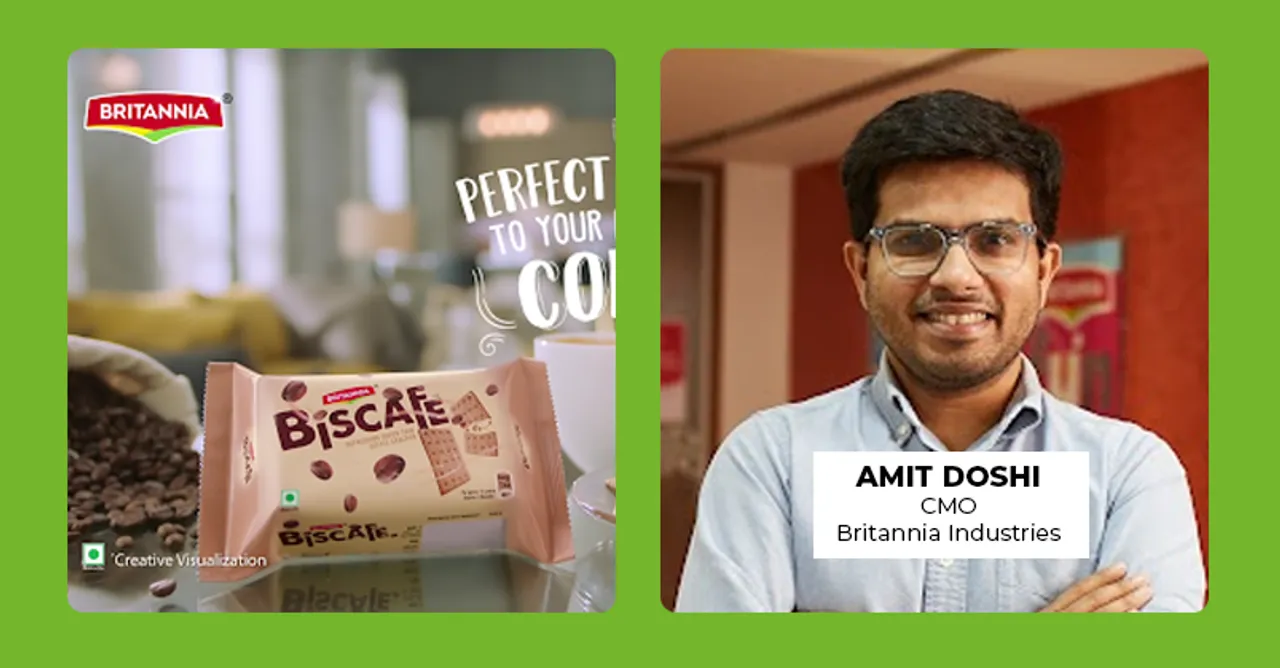 As Britannia shifts the conversation of tea and biscuit to coffee and crackers with Biscafe, Amit Doshi talks about how the product fits in the expanding coffee industry. The product & its marketing explore the coffee ecosystem through celebrity and influencer associations and content creation.
Biscuits have always played a crucial role in the Indian snack market. According to a report by BlueWeave Consulting, the India Biscuits Market is growing at a CAGR of 12.4 % and is expected to reach USD 11,792.3 Million by 2027. The snack has been a companion for the evening tea forever now and with the arrival of the 'cookie' trend, biscuits in India also started advocating the royal milk dunk. A few weeks ago, Britannia launched a biscuit - a thin coffee cracker, Biscafe, that would make a good companion for coffee lovers.
"Beverages and biscuits go back a long way, as preferred consumption partners. While Marie Gold is a perfect partner to Tea, Milk Bikis is to a glass of milk. But keen listening to social media conversations proved that there was no one preferred accompaniment to Coffee," shares Amit Doshi, CMO – Britannia.
Doshi explains that from within the brand's portfolio, the differentiated crackers category seemed the best fit to provide the right experience. "The differentiated cracker segment has been growing consistently over the last 2 years. It was 23% of the cracker segment in 2019 but is today 32% of the category. The pro 'experiment and experience' nature of its young consumers is at play here."
The Burgeoning Coffee Industry
India is currently said to be witnessing the 3rd wave of coffee. With the increasing number of coffee consumers and a line of up-and-coming coffee brands, home-grown brewers - the coffee market in India is burgeoning.
Indian coffee drinkers have started to incline towards making their own cup of hot/cold coffee. This has started creating conversations which are not limited to the beverage itself, but around recipes, kinds of roasts, and even coffee accessories like drippers, hand grinders, frothers, French press machines, etc.
"As a brand, we have always been listening in on social media food conversations and that led us to an opportunity to find Coffee its perfect accompaniment! The journey on Biscafe started from there," Doshi says.
He further explains Biscafe's role in Britannia's biscuit portfolio by stating that, traditionally biscuits have always accompanied tea the best. With Biscafe, the brand aims at moving the conversation from tea and linking the snack genre to Coffee drinking occasions.  
Biscafe Marketing Plan
When it came to launching the product to the audience who best than Bollywood's very own Coffee critic? According to Doshi, the brand set in place a multi-layered marketing, digital-only approach where Karan Johar delivered it in his style.  
Beginning with a teaser where Karan was seen losing his cool when he was denied coffee, thus began his journey of finding coffee its better half.  
Later, Britannia launched a TVC with Karan Johar launching the product. As Karan has always been associated with his love for Coffee on his show, the brand's idea was to leverage this connection and the campaign launched directly on his Instagram handle.  
Speaking on this collaboration Amit Doshi expresses, "Our plan to leverage his clout was simple - Karan's fans follow him for his flair, dramatic nuances and his overall sass; which we incorporated into scripts and the video assets that we shot with him. Once he had uploaded these videos on his account, the rest fell into place seamlessly."  
Doshi mentions that the brand is further looking at exploring non-traditional customized ad serving mediums like Google's director cut mix, InMobi, and more in addition to relevant tie-ups to strengthen the coffee equity as well.  
Interacting With The Coffee Community
Speaking about their audience Doshi stated, "They are not coffeeholics – but are regular consumers of coffee. Their consumption spaces are varied – from office, home to café settings."  
Britannia's TG for Biscafe is basically coffee lovers/aficionados, new age consumers that aspire to achieve more than they had grown up with. The selection of this segment was based on the high incidence of coffee moments in their life – thereby increasing relevance. Also, the segment has higher incidences of social moments in their life.
Millennials are an important part of this Britannia TG. Commenting on their behavioural patterns Doshi says, "Because of their savvy internet practices, 72% of Millennials are more interested in personalized, authentic messages, and 75% of Millennials say a brand's social media presence impacts their purchasing decision."  
To reach the coffee community, the brand is dabbling into influencer marketing where they onboarded more than 100 influences on Instagram, Twitter, and some meme pages as well. "We were able to reach 2.5 million people through our meme marketing campaign," he shares.   
Doshi further adds that the right selection of influencers helped the brand in introducing the coffee cracker, a rather new concept, more efficiently and smoothly.  "Our social media strategy for the launch of BisCafe was a holistic one, with the content creators pushing out the relevant campaign communications at each phase of the campaign."
Coffee as a beverage has made a very niche audience group for itself. With numerous home-grown and artisanal brands coming into play, the competition in reaching the TG has risen more than ever. 
Discussing this Amit says that with Biscafe's launch, the brand has earned one of its strongest media conversations in recent launches. This means the taste and bite profile has been much appreciated by the audience. He also points out that, unlike the artisanal brands, Britannia also targets large and small town classes, which in itself is a larger reach.  
"Yes, there may be quite a few artisans/niche brands but not at the scale to become a part of everyday lifestyle like Britannia Biscafe could be," adds Amit.     
The brand is also evaluating collaborations with coffee brands to establish coffee associations for Biscafe.
Britannia's Media Blueprint 
"Taste, food, and experiences are increasingly connected in Britannia's marketing and social media campaigns. Besides occupying a significant market share in baking, biscuits, and dairy products, the company is also working on localized strategies to adapt to 'Many Indias'," Says Amit.   
A significant focus of Britannia's marketing and social media efforts has been on creating new products and promoting nutrition and wellness.  
Apart from this, the brand has always tried to be very region-specific with its launches. To satisfy the tastes of the region, Britannia introduced Milk Bikis Atta in the Hinterland market, Britannia 50-50 Golmaal for the eastern markets, and most recently Marie Gold Jeera, which was created in collaboration with homemakers in Tamil Nadu by selecting regional flavours from their kitchen. With launches like Good Day Harmony and Milk Bikis Classic, the brand aims at upgrading consumers of these brands to more premium offerings.  
Doshi further states, "The brand has been relying only on traditional celebrity marketing, leveraging the power of Influencers, and going all-digital. Moreover, we have continued to improve its infrastructure and distribution so that it can offer better quality products and a more expansive reach, particularly in e-commerce and modern trade." 
Discussing the trends, he foresees in the FMCG market, Doshi charts out 3 key focus areas - 
Building campaigns that are 2 way and not one-way
Changing roles of celebrities/influencers as celebrities 
Participating in popular culture/Brand as a service