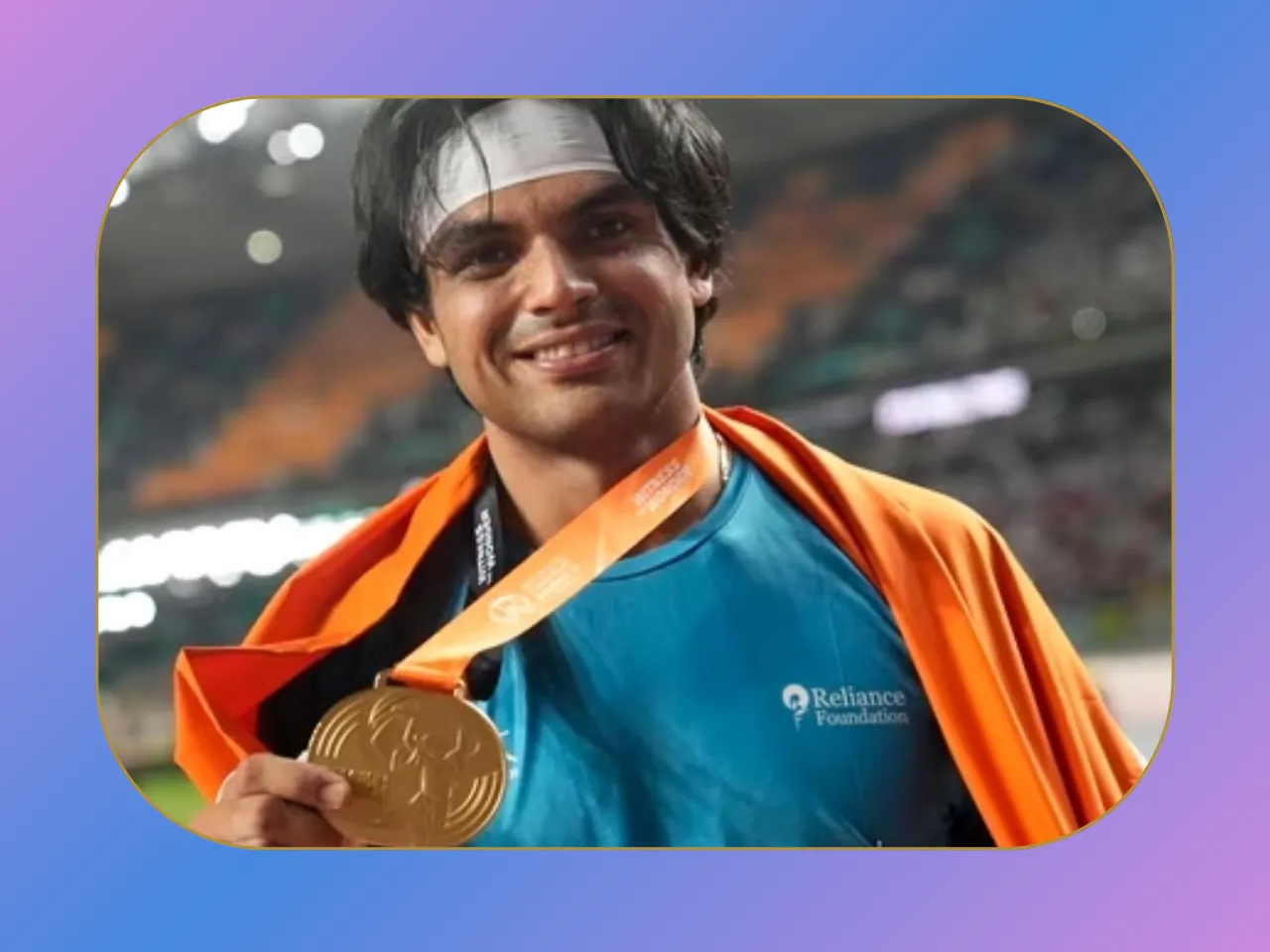 Olympic gold medalist Neeraj Chopra is on a winning streak, not just in the world of athletics but also in the world of brand endorsements. Following his gold medal victory at the Tokyo Olympics in 2021, he has now achieved another monumental feat by becoming the inaugural Indian athlete to spearhead a gold medal at the World Athletics Championships in Budapest, Hungary, with a throw of 88.17 meters. This accomplishment has caught the keen eye of marketers and brand specialists, all of whom foresee a golden future for Neeraj Chopra's brand value.
Back in 2021, after his win at the Tokyo Olympics, Chopra inked endorsement deals with more than 10 new brands like TATA AIA Life Insurance, Limca Sportz, CRED, Country Delight Naturals, Gillette India, BYJU'S, Under Armour, GoodDot, Dynapar QPS, Switzerland Tourism. 
Chopra's journey in the world of brand endorsements began with just four to five brands, such as Nike, Gatorade, MuscleBlaze, etc in his portfolio before the Tokyo Olympics, but his meteoric rise in the sporting world saw his brand partnerships soar to over 15 by the end of the past year.
One of his campaigns with CRED took the internet by storm and played a pivotal role in establishing his strengths beyond the Javelin field. He amazed the brandverse with his acting skills as he played the roles of a journalist, a cashier, a marketing executive, a filmmaker, and an aspiring javelin thrower in this ad. 
Now, after yet another historic win, Chopra might become the new favorite non-cricket sports athlete in the brandverse as his partnerships might see a rise.
Ashish Karnad, Head of Media & Digital at Hansa Research, said, "Neeraj Chopra's fast-rising popularity is expected to draw a wide range of endorsement deals across numerous industries." 
As per the Kroll's report, Chopra debuted with a brand value of USD 26.5 million at No. 23 in the top 25 celebrities list of 2022.
Ram Jalan, a Consultant in Martech and Digital Transformation, underscores how Chopra was already a rising star in athletics, but his brand image was relatively localized. He highlighted that Chopra's triumph in Tokyo back in 2021 metamorphosed him into a global icon.
"Neeraj's social media following saw an exponential increase, soaring by over 200% within a week post his Olympic win. Adidas, which had signed Neeraj before the Olympics, leveraged his victory through a specialized marketing campaign that saw a 40% increase in sales of athletic wear," said Jalan. 
He stated a report that anticipated Chopra securing $2.5 million in endorsement deals over the next two years, marking a 400% increase from his pre-Olympic valuation. 
Giving another example, Jalan said, "Coca-Cola recently made him their brand ambassador for their 'Open Happiness' campaign, which has already received an overwhelmingly positive market reception, boosting the company's sales by 15% in India."
Kaustuv Paliwal, Senior Vice President of MuscleBlaze, also attests to the success of their association with Chopra. 
"The partnership between MuscleBlaze and Neeraj Chopra resulted in increased brand visibility, trust, and loyalty among our target audience. Neeraj's credibility and authenticity as an Olympic gold medalist undoubtedly contributed to our sales growth by 12%. Our social media impressions also doubled during the campaign," said Paliwal.
An ideal brand proposition
Selecting the right ambassador is a pivotal decision that can shape the trajectory of a brand's success and India's javelin sensation has been collaborating with many brands. The central question that arises is, 'What qualities make Neeraj Chopra an ideal brand proposition?'
Jigar Rambhia, COO, Sporjo underscores key facets of Chopra's appeal: his remarkable consistency in performance. 
In Rambhia's own words, "It is his consistency in performance that stands out for him. He has proved to be a long-term player and not a 'one-game wonder'."
Sharing how can brands decide if Chopra is the right fit, Rambhia added, "Brands should look at this aspect and decide whether he fits the brand or not. Brands need to look at him in a slightly different manner and use him over a long period and not as an 'event' based opportunity."
As per Hansa Research Brand Endorser study, the top three categories that respondents identified for Chopra are health and nutrition products (80%), real estate (66%), and auto (64%). He is the most popular among the age group of 16-29 year olds, which makes Chopra a golden boy for brands as they have been trying to connect more with the younger generation.
Sahil Chopra, Founder & CEO of iCubesWire, said, "The athlete has fans across age groups. However, the endorsements he chooses indicate his target audience is slightly inclined towards younger demographics, including millennials and Gen-Z. Neeraj Chopra brings a fresh charm and authentic appeal."
Komal Lath, Founder, Tute Consult, explained that Chopra's attraction to companies stems from his extraordinary sporting achievements, inspirational path, youth appeal, national pride element, versatility, authenticity, and global recognition.
"What sets Neeraj apart is his genuine and transparent online presence, right from speaking out in support of the wrestlers' protest in New Delhi unabashedly, to breaking out into Haryanvi dialect at prestigious black-tie awards functions, to creating fun reels with fellow athletes from other countries (case in point his recent collaboration on his Instagram page with Italian High Jumper Gianmarco Tambari) to inspiring training videos - Neeraj wears his heart on his sleeve making him an endearing, boy-next-door personality," said Lath. 
"His distinct set of characteristics makes him an appealing and relevant candidate for brand endorsements across categories," added Lath. 
While some athletes may shine brightly on a singular occasion or during a specific event, Chopra's enduring excellence on the field positions him as a valuable asset for brands.
Furthermore, Tuhin Mishra, MD and Co-Founder, Baseline Ventures shared a few more qualities that make any athlete an ideal proposition for brands.
The athlete is young. 

The athlete has been performing consistently.

The athlete has a certain view on subjects that affect probably day to day lives of people. 

Athletes with whom people can relate to.

Athletes who also have the potential to remain relevant for a period of time.
Chopra has a follower base of seven million on Instagram and 948.6K on Twitter.
"The sentiment around Neeraj Chopra is overwhelmingly positive, especially after he made history by winning India's first-ever gold medal at the World Athletics Championships," said Sahil Chopra, Founder & CEO of iCubesWire. 
Sports marketing beyond cricket
According to the GroupM ESP's Sporting Nation Report, out of the 505 brand endorsement deals, 85% of the total brand endorsement value has come from cricketers. The report also stated that Neeraj Chopra and PV Sindhu continue to be leading the non-cricketing athletes leading the endorsement deals.
Rambhia believes that sports marketing is moving beyond cricket. He said, "This is a very good sign as we are now moving quickly towards a 'multi-sport' nation from a 'one sport' nation."
A recent Nielsen report showed a 35% increase in endorsements for athletes in non-cricket sports in 2022 compared to 2019.
Jalan cited an example of a brand that has benefited from associating with non-cricket athletes. It was Shoes brand Puma that reallocated 25% of its sports marketing budget away from cricket this year, choosing instead to back emerging talents like wrestler Vinesh Phogat and badminton champion P.V. Sindhu. This move has paid off with increased sales and engagement in categories related to these sports. 
"For industry leaders, these developments signal an imperative to diversify sports marketing portfolios, or risk missing out on the rising wave of new sports heroes capturing the nation's imagination," said Jalan. 
While India has indeed nurtured non-cricketing sports talents such as Saina Nehwal, PV Sindhu, Lakshya Sen, Sania Mirza, Vishwanathan Anand, Aditi Ashok, Mary Kom, Sunil Chhetri, and new prodigy Praggnanandhaa, it remains undeniable that none of these luminaries have managed to attain the level of popularity and brand recognition as Indian cricketers.
As far as Chopra is concerned, there's one challenge that his talent management team might have to face.

"It's a 'Cricket World Cup' year (it is in India, no less), most of Neeraj Chopra's wins (which we dearly hope for) are going to be clocked when India sleeps (thanks to time differences between India and other European nations) and Neeraj Chopra not being in 'public eye' frequently - thanks to his travel schedules between competitions and training - the delta jump in his brand value is likely to be muted," said Lath. 
At the same time, brands that associate with non-cricket athletes are viable for benefits such as increased visibility, sponsorship, and interest from brands and sponsors for non-cricket sports.
For Chopra to truly witness a major spin in his career, Lath said that India will have to witness his glory. 
"The true inflection point for non-cricket sports is expected, when India hosts events like World Athletics Championship and Indians get to witness the magic of Neeraj Chopra first-hand," said Lath. 
As the sporting ecosystem moves beyond cricket and Chopra continues to shine both on and off the field, he is expected to witness more visibility in ads. However, real change will be when India starts supporting non-cricket athletics with more opportunities.