Despite being termed as an underdog pitted against the star-studded team of Kolkata Knight Riders, Delhi Daredevils comfortably won their first match. And by the time you read this article, they would have played a good number of matches.
Despite dropping TV viewership and low TRPs of IPL matches, fans' engagement with their teams seems to be steady on the web. Although only a few cricket lovers have downloaded the teams' official apps, the interest is not wavering. People are interacting on social media with their favorite teams and players.
In the series, so far, we have coveredthe social media strategy of the IPL governing body, Mumbai Indians, and Kolkata Knight Riders. In this article, let's see what tools of engagement Delhi Daredevils is using and to what effect.
Tools of Engagement
Delhi Daredevils (DD) is using all the major social media tools – Facebook, Twitter, YouTube, and blog. Let's analyze each one of them to see how effectively it uses these tools to keep its fans engaged.
On Facebook
The first thing that you will notice on the fan page of Delhi Daredevil is a warm "Punjabified" invitation from Nargis Fakhri, the actress from the movie Rockstar. The cover image is good, but it could be better. DD should have used the space to strengthen the brand perception. It should have continued the background it has used on the website, Twitter, and YouTube.
Delhi Daredevils fan page has in total 256,108 fans, of which only 21,703 people are actively engaged (see the images below). For the kind of tools it has available, the engagement is pretty low.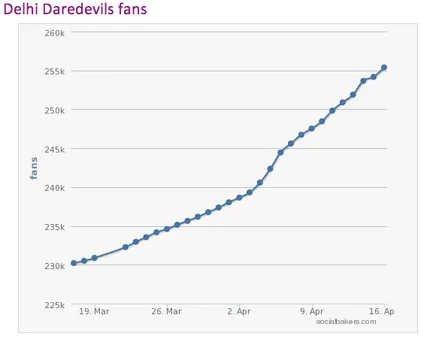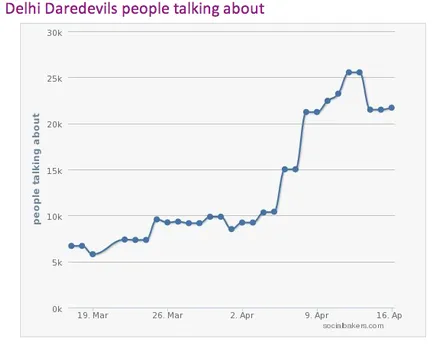 The moment you land on DD's fan page, you will notice the free-ticket giveaway box, but the tool has not been properly used to create engagement on the page. Delhi Daredevils has lost the chance to create  a proper buzz. You will also notice a very powerful tool lying beneath the fold, in the app bar -- Fan of the Week --, which could have been very effective, if used properly.
The idea behind hosting "Fan of the Week" is solid, but it has not been implemented properly. The "Fan of the Week" box should have been placed above the fold, in place of IPL 5 Schedule, and profile picture of "Fan of the Week" should be used as the cover-image of the app box. Other cover images need optimization as well.
Nature of posts
Posts are basically visual in nature. DD has also shared some of the press clippings as well as announcements of the contest, but the effort to promote the contest has not been done enthusiastically. It is important to note that some occasional posts are in Hindi as well.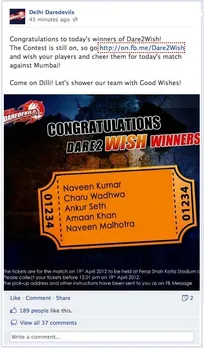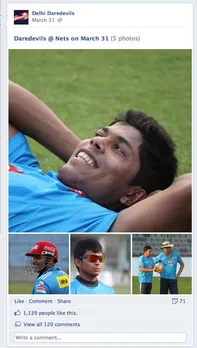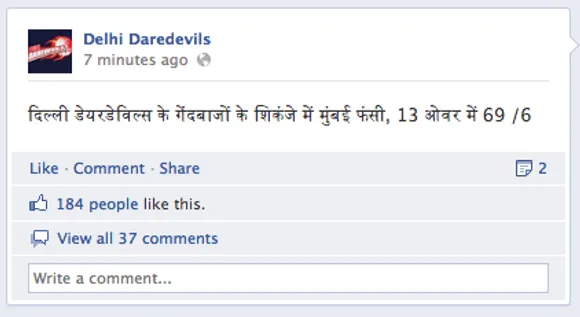 A post in Hindi
On Twitter
URL:
Hash Tags: #DelhiDaredevils, #DD
On Twitter, Delhi Daredevils has 17,146 followers. It is very active on the platform. The frequency of posting is good, and it does a semi-live tweeting of the DD's matches as well. DD has used the bio section of Twitter to promote its Facebook page, which is a good strategy, but it missed out on the opportunity to include fan page URL in the background. Another thing missing from DD's Twitter page is the header banner, like the one used by BestBuy on its Twitter page.
The tweets are mix of recent updates, images, and retweets of other cricketers. Hash tags have been properly used. DD has posted some tweets in Hindi as well.


A Hindi Tweet
On YouTube
Delhi Daredevils' YouTube effort is a complete failure. Despite having video footages of stars like Virender Sehwag, it has failed to capitalize on it. YouTube is, sadly, a lost opportunity. DD's YouTube channel has merely 81 subscribers.
Blog/website
Delhi Daredevils' website has been done in good taste. The look and feel of the website is congruous with the brand identity. It also gives an option to view the website in Hindi, which is a very nice initiative, but the nomenclature of sections and sub-sections of the Hindi website needs improvement.
DD has 3 blogs namely, Mentor's Musings, Ringside View, and Roadshow. There are a handful of blog posts, but the frequency could be a lot better. Website real estate should have been used a bit more judiciously.
Connecting Thread
In my analysis, I failed to find any central theme or strategy behind all the social media activities of Delhi Daredevils. It has done bit of every thing, but there is no coherence between the use of various tools. It should have planted its feet firmly amidst Hindi-speaking fans by increasing the frequency of Facebook and Twitter updates in Hindi, but concrete efforts are missing here as well.
Conclusion
Delhi Daredevils has more than enough tools – contests, videos, free ticket giveaways, fan of the week, etc., -- to take the engagement to another level, but it has failed to capitalize on that. The tools and ideas are all buzz-worthy, but the viral element is missing from the campaign.
In a nutshell, social media activities of Delhi Daredevils are good in bits and pieces, but as a whole social media is a lost opportunity for Delhi Daredevils. It had all the potential to create a far greater engagement with their fans like Mumbai Indians and Kolkata Knight Riders have managed to do, but because of the lack of a cohesive strategy, it has missed out on that.