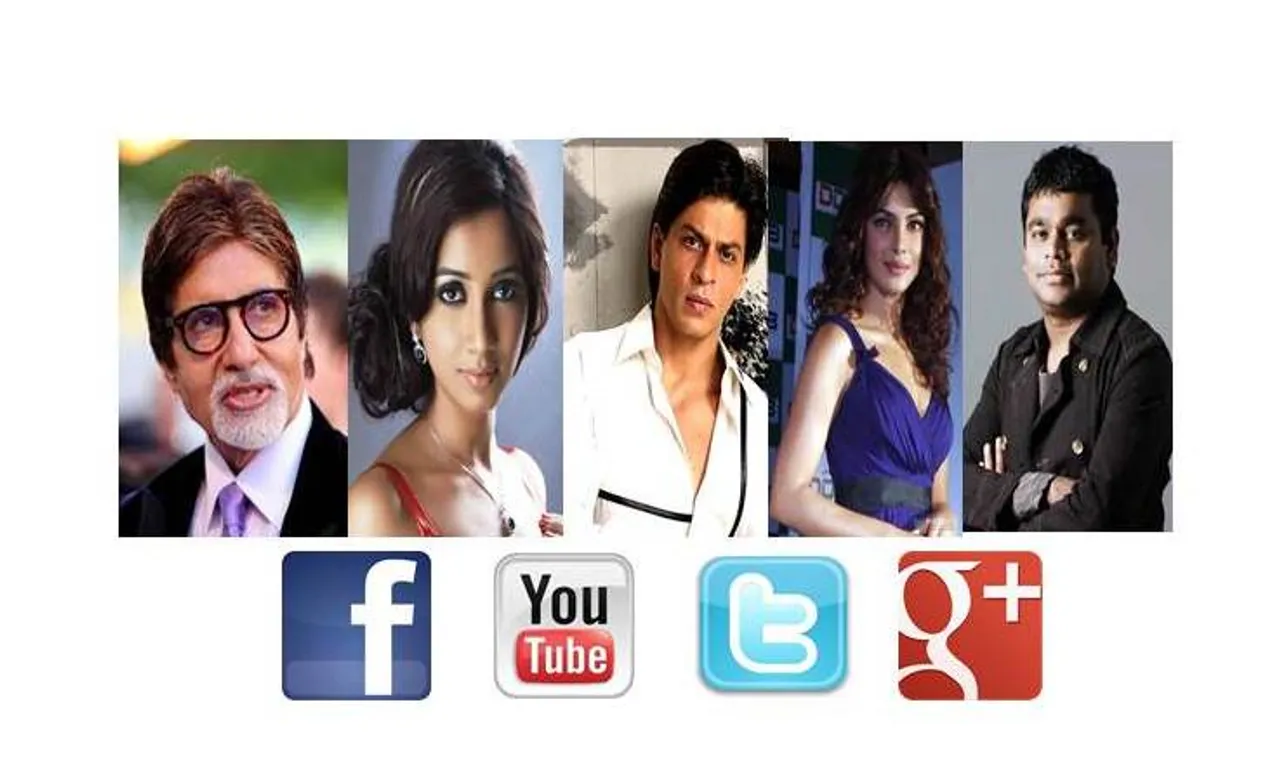 As Social Media's popularity continues to grow; connecting people with just about everything they like, celebrities from various industries are in the space too, trying to build a better fan base.
This report by Webenza explores the role of Social Media in 'Celebrity Reputation Management' & 'Brand Building', as well as the metrics for measuring the success of celebrity social media efforts against industry benchmarks through what we call SMQ – Social Media Quotient.
The Process:
1. Calculate SMQ:
2. Listening & Monitoring - IncPot:
Reactions/Conversations/Mentions about the celebrity
Tracking real time conversations.
3. Analyze:
Insights into these online activities.
Identify patterns, tonality of the conversations
4. Compare:
Profile comparison with other celebrities.
Share of voice
Channel wise analysis of Entertainment Celebs:
Not surprisingly, in overall quotient Priyanka Chopra tops the list closely followed by SRK with BigB. A.RRahman and Shreya Ghoshal are also not too far behind in their social media engagement activities.
Social Media Trends of Indian and Global Celebrities:
Twitter is the channel that is leveraged the most by Indian stars followed by Facebook, Google+ and YouTube.
Indian celebs are relatively active on Blogs.
In case of Global celebs, the presence on Facebook and Twitter is almost at the same level.
Activities on Youtube by global celebrities are more compared to Indian celebs.
Tracking & Monitoring:
1. Amitabh Bachchan: 
People talking about Amitabh Bachchan most belong to the age bracket of 36-45 years followed by Youngsters.
Maximum online Buzz about Amitabh Bachchan has been tracked in India followed by United States, United Kingdom and even in a far flung country like Greenland.
2. Shahrukh Khan:
People talking about SRK most belong to the age bracket of 13-17 years followed by people in their mid-thirties.
Maximum Online Buzz about Shahrukh Khan has been tracked in India followed by USA and Indonesia.
3. Priyanka Chopra:
People talking about Priyanka Chopra most belong to the age bracket of 18-25 years followed by teenagers
Maximum online Buzz about Priyanka Chopra has been tracked in India followed by United States and United Kingdom
4. A.R Rahman:
People talking about A.R Rahmanmost belong to the age bracket of 26-35 years followed by youngsters
Maximum online Buzz about A.R Rahmanhas been tracked in India followed by United States and United Kingdom
5. Shreya Ghoshal:
People talking about Shreya Ghoshal most belong to the age bracket of 18-25 years followed by people in their mid-thirties
Maximum online Buzz about Shreya Ghoshal has been tracked in India followed by United States and Pakistan