Of all the industry niches, the Indian BFSI sector has been fairly sluggish in adopting the new medium. Very few brands have been able to strike a chord with their online audience while many have just started taking their first baby steps on social media.
In this scenario, it is interesting to see that the social media media space has largely been taken over by private banks even though it is the 20+ nationalised banks who command a huge chunk of the overall banking transactions in the country.
In this review, we have collected data from 2nd April to 1st May for India's major financial institutions with an active social media profile. The institutions we have selected for this review are:
IDBI Bank
SBI Card
Kotak Mahindra
Reliance Mutual Fund
As you can see, these not just 'banks' but there are financial institutions as well. They have been chosen based on a mix of several factors, such as: community size, activity level on social media, prominence amongst the consumer base, media mentions etc.
Community Building:
India's largest private sector bank, ICICI, is one leading the pack with the largest Facebook community of over 2 million. HDFC is a distant second with 1.5 million Likes, followed by Axis Bank, which has 1.1 million people in its community.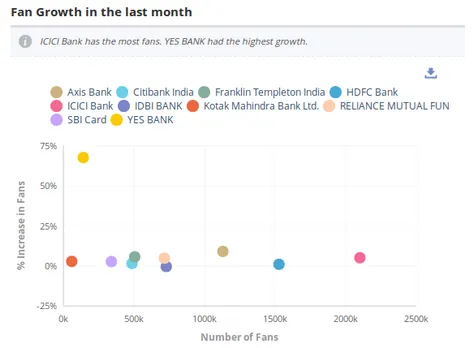 Source: Unmetric - A Social Media Analytics Tool
However, these big banks have gone slow with their growth rate. ICICI added 98k people to its community during the research period, which amounts to a growth rate of just 5%. Similarly, Axis reported a growth of 9% and HDFC could only manage  0.77%.
But in the same period, Yes Bank has grown the fastest. By acquiring 58k people to its community of 140k, it has grown at a fantastic rate of 67%! It looks like Yes Bank is going all out trying to build its fan base and is using Facebook advertisement.
On Twitter, however, the scenario is completely different. You have Kotak and Yes Bank, the ones with the smallest Facebook communities, leading the charge on Twitter.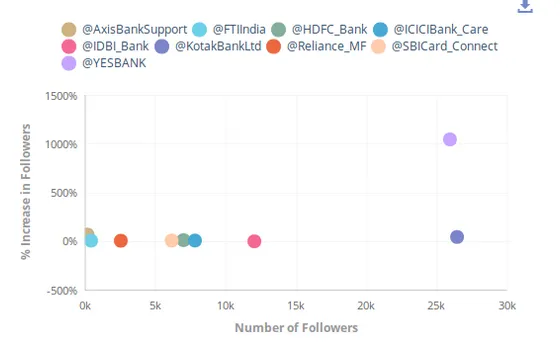 Source: Unmetric - A Social Media Analytics Tool
While the rest of the brands have a community of several thousand people, Kotak and Yes Bank are miles ahead with +25k followers. And of these two, Yes Bank has grown at a rate of 1000%!
It acquired almost 90% of its followers in the last 30 days. I wonder how it managed to pull off such a feat considering how difficult it is to acquire followers on Twitter. May be the partnership with IPL helped it? The bank has certainly leveraged the IPL over the last 30 days, using the hashtag contest #YESBANKMaximum 370 times and #PepsiIPL a total of 289 times, which also gives an indication of the volume of proactive tweets the bank has been making.
Content Strategy:
The content strategy for all the banks is similar in most aspects. A big majority of the content being shared is of following types:
Self-promotional
Banking security
Quizzes
Financial advice
Trivia
CSR updates
Q&A updates
As compared to our previous review of the Ecommerce brands, banks are fairly low on self-promotional updates. A big chunk of their content revolves around security tips and financial advices. I find this a good way to tap into the mindspace of its consumers and attain thought leadership.
It might be the season of Cricket but not all brands are trying to tap into it. Only ICICI and Yes Bank are the ones whom I can see leveraging the IPL madness Perhaps the other banks what to be different by not tapping in to the current trends.
Yes Bank is going all out trying to promote IPL and its association with it, thereby hampering its entire content strategy. All you can see are updates about Yes Bank Maximums (a holistic strategy that spans social networks). A little of integration with IPL is good but to revolve your entire content strategy around just one theme has been known to be social media suicide.
On the other hand, SBI Card is bombarding its community with self-promotional updates. There are very few useful updates on their page. Considering that you are dealing in a niche where fraud is very high, they could make their strategy more diverse and have a theme that revolves more around security.
Personally, I like Franklin Templeton and ICICI Bank's strategy the most. Good and shareworthy updates, they add a lot of value to their community.
The next step for them should be to make a better use of custom tabs. They should think beyond branch locator and contest tabs.
On Twitter, it's the same updates that get shared. Sprinkled with some hashtag campaigns here and there. This is one way to reuse content, but it's often seen as being lazy, not to mention people on both social networks expect to see different kinds of content.
Twitter is basically turning into a customer service channel for the service sector, to be honest. While Twitter is a great channel for customer service, I feel a lot more can be done over there.
YouTube is largely ignored by the BFSI sector and is, as is the norm now, used as a repository to store TVCs. And when they are not uploading TVCs, the space is taken up by videos from their internal events and business channels.
In this regard, I am liking how ICICI has started uploading videos that are more valuable to its business oriented community. And these are not just 2-3 minute videos, they are longer than 7 minutes. However, they probably need to do more to increase the visibility of these videos as some only have a handful of views.
Several other banks tried the same thing as well but they were half-hearted in their approach. Hope ICICI Bank doesn't go the same way!
Community Engagement:
Most of the engagement for the brands comes in the forms of likes on posts. There's very little interaction to be seen on their updates.
Only ICICI and HDFC are seeing a somewhat decent number of comments coming in. But looking at the size of their communities, that is still a downer. Getting people to share the content is the number one way to increase the reach of a brand. Getting Likes is easy, but getting someone to stop and leave a comment requires the content to be much more engaging, simply asking a question doesn't guarantee a response.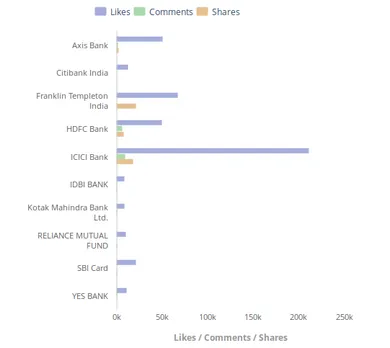 Source: Unmetric - A Social Media Analytics Tool
However, it was disheartening to see brands not allowing their fans to post on their walls. And the culprits are brands like ICICI, IDBI, Citibank etc.
By not allowing people to share their complaints/queries on the wall, they have ensured that the comments section of their updates is populated by negativity. It could be said that sensitive nature of the banks means they don't want people inadvertently sharing personal information, but when they offer this option on Twitter and when US banks are able to handle support on Facebook, why not Indian banks?
So even if you share a financial tip as an update, you will have people cribbing about your poor service there. And this is not a good thing to have. You need to provide proper outlets for people to share their grievances, otherwise you run the risk of getting trolled.
Customer Service:
During the period of the research, HDFC and ICICI Bank were the most responsive ones on Twitter. As you can see, almost all of HDFC Bank's tweets were oriented towards communicating with its consumers.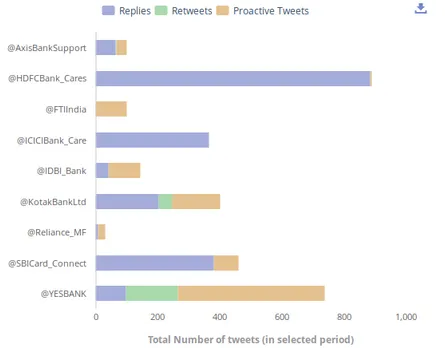 Source: Unmetric - A Social Media Analytics Tool
But again, we are seeing brands employing multiple Twitter accounts for various purposes. For example, Axis Bank has 3 different handles: @AxisBankOffers for sharing updates about offers, @AxisBank as the official handle and @AxisBankSupport for customer service.
So you will have people tweeting their queries to other handles instead of the one for customer service. I wonder why brands find it apt to have multiple IDs? Multiple agencies handling different business areas? A fear that doing support from the main account will decrease the value of their proactive tweets?
As far as the nature of the tweets is concerned, most of them ask their customers to contact them via DM, Email or a contact over phone.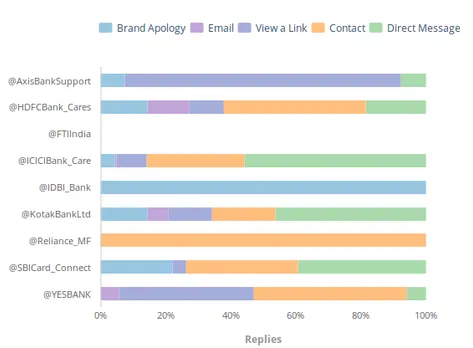 Source: Unmetric - A Social Media Analytics Tool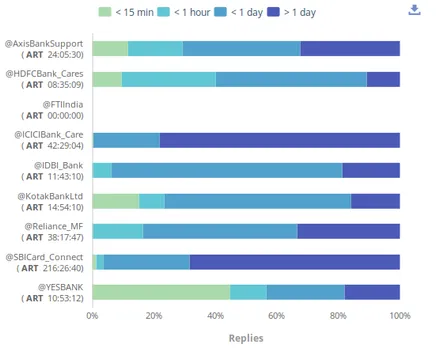 Source: Unmetric - A Social Media Analytics Tool
While I don't encourage such a 'non-social' behavior from brands, but when you're in a field where secrecy is of prime importance, conversations have to take place in private.
This is probably why you can see a lot the brands asking their customers to either contact them via phone or DM.
However, in order to find out how important the brand considers its customers to be, you need to find out how agile it is in solving their issues.
HDFC comes out trumps here as its average response is a 'quick' 8 hours. But ICICI Bank, Reliance Mutual Fund and SBI Card take more than a day to respond, with SBI Card being the worst culprit as its average response time is 216 hours! You can probably get a new card delivered faster than that! It could well be the case that SBI's agency has to get approval on every reply to ensure compliance with their customer support policy.
As a financial institution, you need to be very quick in your responses. You never know which one will require your immediate attention and might lead to a heavy loss for your customer.
Sentiment:
Of the 10 brands studied, only 4 of them allow fan posts on their walls. As you can see, not many of them are negative in nature. HDFC bank seems to be getting the maximum negative posts on its wall but that can be attributed to its huge community base as well.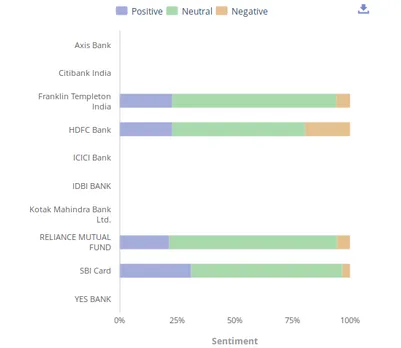 Source: Unmetric - A Social Media Analytics Tool
On Twitter, the sentiment is indicated by the sentiment of the tweets that the brand replied to.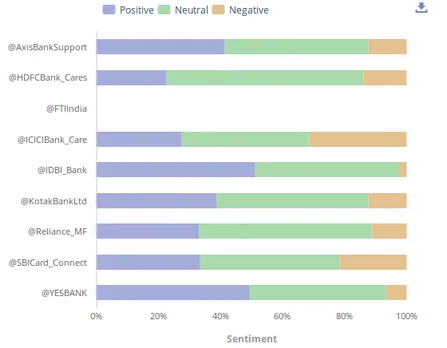 Source: Unmetric - A Social Media Analytics Tool
Here, ICICI and SBI Card are facing the most negativity. Can it be attributed to their dominance in the market? May be more customers mean more complaints and queries, right?
But what is not helping is their slow response time, as mentioned above.
Comparatively, IDBI and Yes Bank are getting good responses from their respective customers, they see more than 50% positive responses from their customers.
Conclusion:
Content-wise, the BFSI segment can do a whole more than just sharing updates that get likes. They need to stir up some conversation and get people talking.
And I dearly want them to open up their Facebook pages for fan posts. They need to be more open and transparent with its community.
As far as Twitter is concerned, I only hope their response time quickens. This might mean they have to bring in some of their social media operations in house or give their agencies wider responsibilities to reply or improve backend operations to deliver quick and accurate answers.
Analytics Support: Unmetric