This review is a part of our 'Social Media Strategy Review' series where we do a 360 degree analysis of a brand's entire social media activity. You can read the reviews of more brands here.
As a brand that aims to celebrate unconventional dressing and to  revolutionise formal wear, Allen Solly has come a long way since its launch in the 90s.
Today, it is an established brand that resonates with trendy casuals and stylish wear. But has it been able to translate the same attitude and personality on social media?
This is a review of Allen Solly's social media activities for a period of 30 days starting from 7th November to 6th December.
Overall Review
Currently, the brand's entire positioning on social media is around #EffortlessChic; which aims to woo women. The content, communication and product promotion are all around positioning Allen Solly's effortless style sense.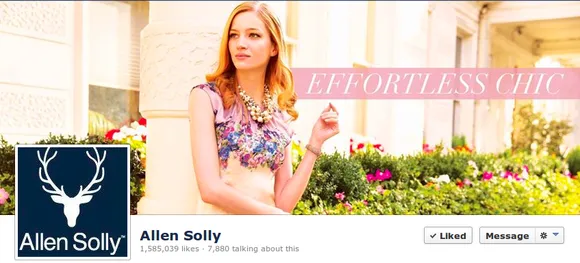 The brand has an active presence on Facebook, Twitter and Instagram, and is somewhat active on YouTube.
Though the brand sells products for both men and women, their social media content is heavily targeted towards women.
Platform-wise Strategy
Facebook
The brand communication on Facebook is completely in line with the Effortless Chic theme. The best thing about this is that they aim to sell the concept itself and not merely the product.
More often than not, brands tend to sell simply their product. What I like about Allen Solly, is how they are using the content to sell their positioning.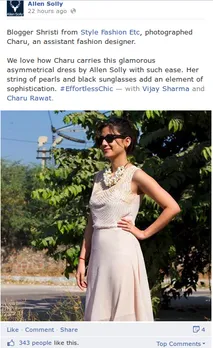 Although, I would like it better if the posts were more conversational in nature. Right now, Allen Solly is in broadcast mode and that explains why it sees less number of comments on its updates.
As far as engagement goes, that seems lackluster as well, irrespective of the brand updating 2-3 times a day. And yes, we can blame Facebook's algorithm for that till the cows come home, but I wonder why a brand like Allen Solly can't, and isn't spending money on promoted updates.
Source: Simplify360 – A Social Media Analytics Tool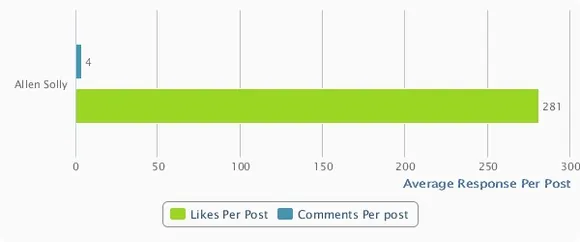 Source: Simplify360 – A Social Media Analytics Tool
If you're creating good content, you might as well invest money in marketing it.
Allen Solly also has quite a few custom tabs but Tag The Stag is the only one that stands out. Even the Store Locator is a good addition. However, I would appreicate if they are promoted well, because currently they aren't.
Allen Solly's wall sees quite a good number of updates from people who are asking a query, posting a complaint or praising their products. But the brand seems to have turned deaf and has responded to only 16% of the wall posts. Ideally, the brand should be responding to every communication that comes their way.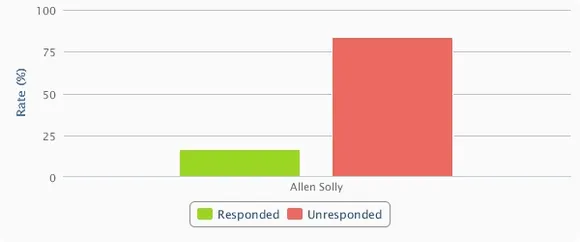 Source: Simplify360 – A Social Media Analytics Tool
What's worse, I saw them 'liking' the praises their community members heaped on them! How difficult is it to respond with a polite 'Thank You' when your customer has taken the pain to write positively about you?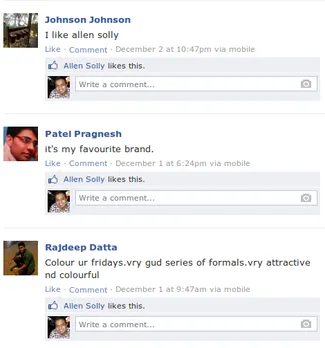 That's absolutely unnecessary and lazy, if you ask me.
Twitter
The content is again based around #EffortlessChic and carries the same essence as it does on Facebook.
Making 4-5 tweets a day, it is more responsive here than on Facebook, but needs to maintain more consistency. With the data available with me, I see that the frequency of tweeting is irregular. The brand seems to be getting good responses between 3 PM to 5 PM, but it doesn't tweet much in that period.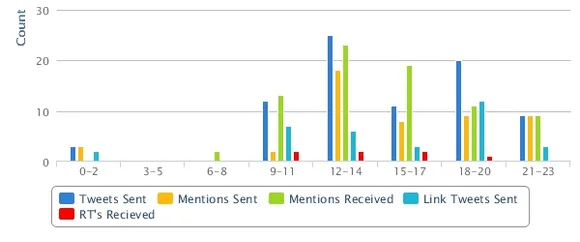 Source: Simplify360 – A Social Media Analytics Tool
It has received 77 mentions in the last 30 days, which is okay-ish for a brand which hasn't established itself on Twitter yet.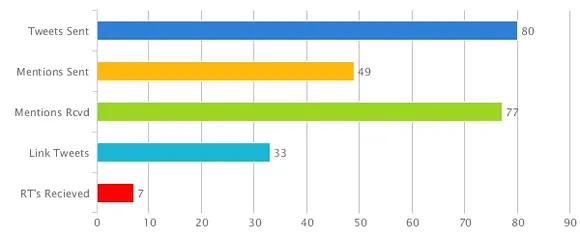 Source: Simplify360 – A Social Media Analytics Tool
I would love to see it build its community and create content that is shareable in nature. The tweets, though interesting and useful, are not the kind of tweets a fashion conscious person would like to share with his/her network of friends.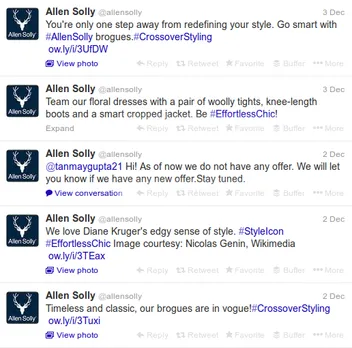 Also, there is sparse use of images by Allen Solly on Twitter. Now that Twitter shows images on timeline, I think all fashion brands should use it effectively, without overdoing it.
As far as engagement is concerned, more than 70% of their tweets get no response at all. Which again goes to show for the lack of shareable content.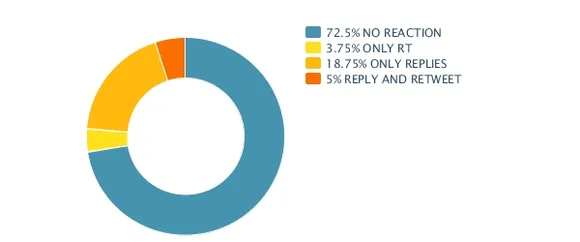 Source: Simplify360 – A Social Media Analytics Tool
YouTube
Allen Solly hasn't created any video in the period studied. And this is really disappointing because a fashion brand that relies heavily on visuals and style, should be using video in some form.
I can see that Allen Solly had created some insightful videos several months back which have now been discontinued. I wish they had continued along the same path and created a series of videos that really appeal to their TG.
Instagram
The content is more or less an exact replica of what the brand shares on Facebook. Seems decent for starters but they should be much more actively be promoting it.
I don't see Allen Solly either sharing their Instagram updates on Twitter or Facebook, nor is it asking people to connect with their Instagram channel.
But it's nice seeing a brand having a decent presence on a mobile-first channel.
Comparison with Competitor
In comparison with Allen Solly, Van Heusen has just half the size of its community on Facebook. And their engagement is even lesser.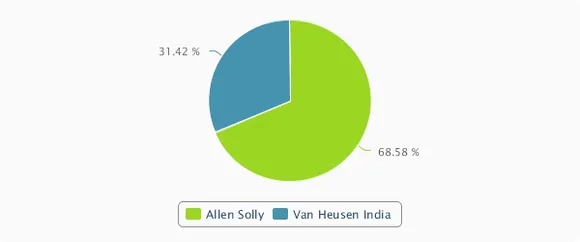 Source: Simplify360 – A Social Media Analytics Tool
This low engagement can be attributed to the fact that it churns out lesser content than Allen Solly does. In comparison with Allen Solly's 2-3 updates daily, Van Heusen is content with just one update a day. Otherwise, Van Heusen has a better per post engagement.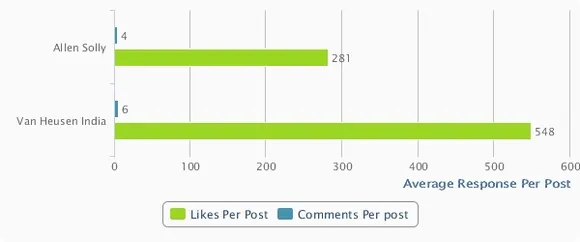 Source: Simplify360 – A Social Media Analytics Tool
Van Heusen is even more dormant than Allen Solly on Twitter. With 570 tweets and just 850 followers, it has a long way to go if it wants to catch up. The content mirrors Facebook and is not at all noteworthy.
Allen Solly has done better than Van Heusen in all aspects on social media because of its interesting content and focus towards community building.
Feedback
I would like to conclude my review of Allen Solly's strategy by sharing two crucial points of feedback which I believe will benefit them greatly.
Shareable Content: If you are a fashion brand, you can come up with a veritable treasure trove of content that will can be shared wildly across social media platforms. Share quirky fashion tips that pique the interest of your community and will compel them to share it with their network.
Use Videos: While using images is good, videos can take it up a notch higher. Ideate a themed video series of short videos which are interesting as well as insightful. You will need to start thinking like a media house.
EXPERT VIEW:
Allen Solly seems to be under leveraging its social media presence by under responding and not fully leveraging the content potential its brand has.
The presence seems to follow a process, which does not seem to be dynamic. It's almost as if the brand is bored on social media itself and is happy with updates that have been set into a framework without much innovation or imaginative thinking.
Also, it's a one way traffic as responsiveness is low to consumer updates which in itself defeats the purpose of being on social media.
Expert View by Rajiv Dingra Founder & CEO of WATConsult – An Award Winning Digital & Social Media Agency.
Analytics support courtesy: Simplify360