Chocolates, once considered a luxury are now more affordable. Its popularity has grown so much that now the traditional mithai of India is slowly being replaced by chocolate. It seems that these days, people prefer to give nicely packaged chocolates over other gifts on occasions and festivals.
It is kind of a no-brainer that the whole world loves chocolate, right? Therefore, chocolatiers have the benefit of swaying an audience that eternally adores their products.
This furnishes chocolate brands with an exceptional opportunity to connect with their audience, especially on Social Media.
Beyond a shadow of doubt, the multinational chocolate brands, including Nestle, Cadbury and Toblerone are keeping tabs on the Indian market.
Accurate understanding of the Indian consumer, precise positioning, mature distribution channels, and careful marketing segmentation attribute to the growth of the chocolate Industry in India, despite the competition. Now, let us find out how these chocolate makers have leveraged social media to their advantage.
This article will provide a comprehensive portrait of the Social Media Strategies of the following Chocolate brands for the period of 1 month from 1st February to 28th February 2014.
Choco Eclairs India
Cadbury 5 Star
Cadbury Bournville
Cadbury Celebrations
Cadbury Perk
KitKat (India)
Nestlé MUNCH
Snickers India
Toblerone India
Community Building
If you think that chocolates were only limited to children, then think again. One of the most important consumer segments for these chocolate brands are people between the ages of 21 - 30.
Take for example the demographics of Cadbury Celebrations and Cadbury Bournville that indicate that a large number of fans are between the age group of 21-30 years.
Cadbury Celebrations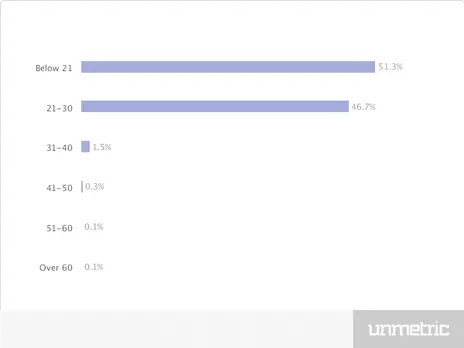 Cadbury Bournville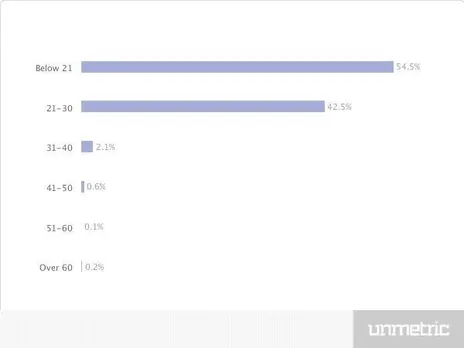 This should reaffirm to brand managers the importance of marketing in the social and digital context to access the younger generation.
When we come to the growth of their fan bases during the time frame analysed, it was found that Cadbury Celebrations has the most fans and Bournville was catching up in the race.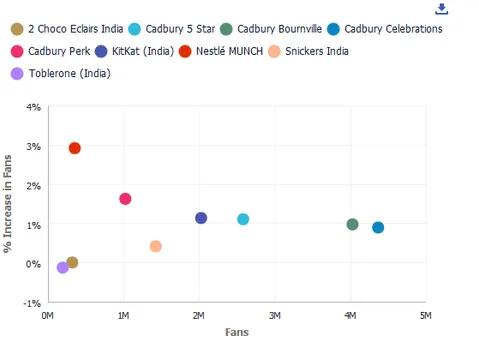 No wonder these two brands have such a huge Fan base, owing to their past campaigns such as Bournville Tape-A-Tweet and Not-So-Sweet. Cadbury Celebrations has also created some brilliant campaigns in the past such as 'Songs for Sisters' and'India Celebrates'. These efforts have translated in a massive base for both brands.
Nestlé MUNCH had the highest growth. Its fan base grew faster (2.9%) than the average Food/Beverage Facebook pages from Asia (1.3%).
Munch gained about 10,000 new likes in the time frame analysed with Cadbury Perk following in second place. The two chocolate bars are very similar so its interesting to see they are two fastest growing chocolates in India on Facebook.
Let us see what had increased their fan growth.
People love Ad wars, especially in the age of social media; the battle can be bigger than before!
Cadbury Perk had come out with a crafty advertisement pointing at Nestlé Munch where it mocked Munch for being a lighter chocolate with less wafer layers. Munch retaliated with a punch back at Perk by reconstructing the same ad with a twist.
Soon it was evident that the social media world loved the hit back and backed the Munch ka Punch!
This ad war increased the fan growth and the engagement rates of both Munch as well as Perk.
(Munch)
On Twitter, @CadCelebrations has the most followers. @Cadbury5Star had the highest growth.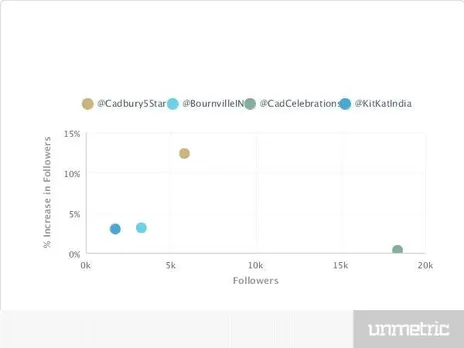 Unfortunately since Munch and Perk are not on Twitter they missed out on capitalizing on the Twitter buzz around the Chocolate war.
Content Strategy
The premium dark chocolate brand Bournville triggers funny and creative conversations amongst its fans. Their content is aimed at a niche audience of young adults who prefer dark chocolate that is not so sweet. Bournville's content is mostly about the bitter sweet tantalizing paradox.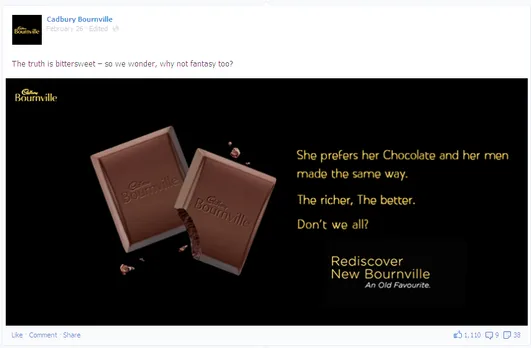 Kitkat carries forward its "have a break" proposition on social media. It also uses a lot of photo sharing to stimulate cravings and encourage impulsive buying.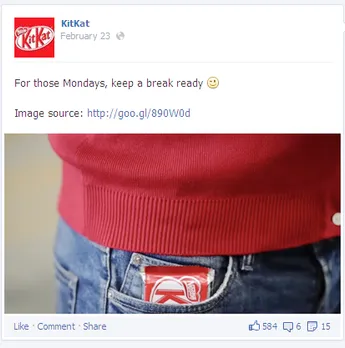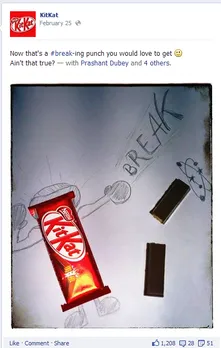 5 Star on the other hand, extends its brand positioning as a cure for seriousness on Social Media with amusing, light hearted content.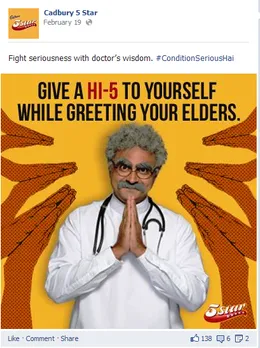 Just like Oreo, Snickers also picks different days of the year and puts them across, through the eyes of Snickers.
Their content on social media delivers the message of Snickers being the ultimate hunger satisfier - Hunger ache achho ko badal deta hai
It is surprising that Cadbury Eclairs, Toblerone and Cadbury Celebrations were barely posting anything on their Social Media presence. (It's our opinion that having an inactive social media presence is actually worse than having none at all.)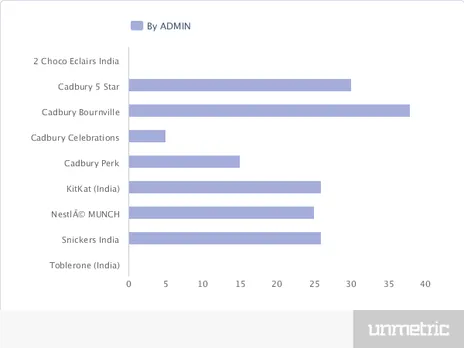 Bournville and Cadbury Celebrations use Twitter only for cross posting updates from Facebook to Twitter. As you can see all their Tweets are proactive. They are not engaging themselves in meaningful conversations on Twitter.
Whereas Five Star is trying to leveraging Twitter to strike a conversation by retweeting or replying to some of the user tweets, they frequently run Twitter contests as well.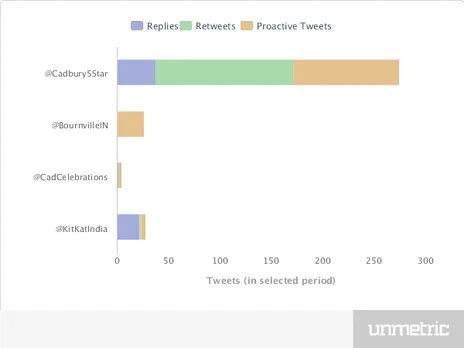 Engagement
Nestlé MUNCH engaged best with its fans in the month of February thanks to its 'Munch ka Punch' comeback, which created a lot of buzz on Social Media. On the other hand, Bournville's overall engagement for admin posts was below average in this month.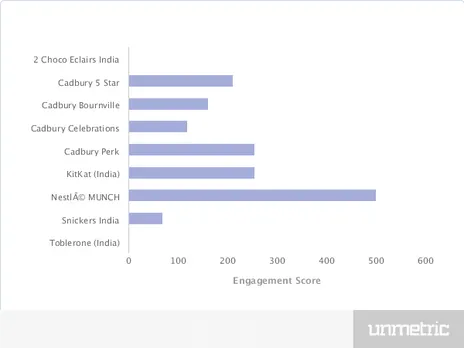 Overall, Cadbury Bournville received the most Likes but KitKat (India) reached a wider audience with the most Shares while '5 Star' recieved more comments.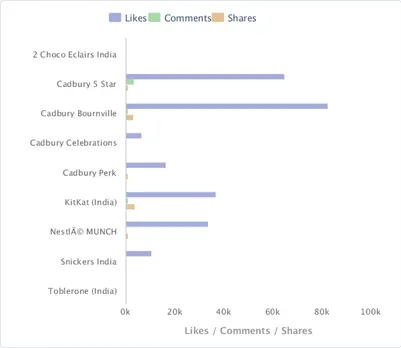 Kitkat's strategy is to post plenty of tempting photos on their Facebook page and this is fetching them a wider reach. These numbers clearly tell us that these mouth-watering pictures seem to be a good way to delight customers!
While using humour seems to be working well with 5 Star.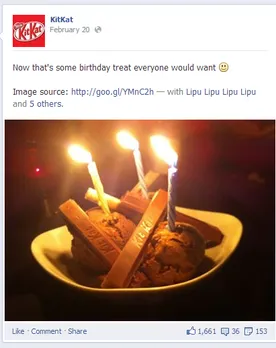 Meanwhile on Twitter, it is no wonder that @Cadbury 5 Star was mentioned the most thanks to all the contests they ran.
!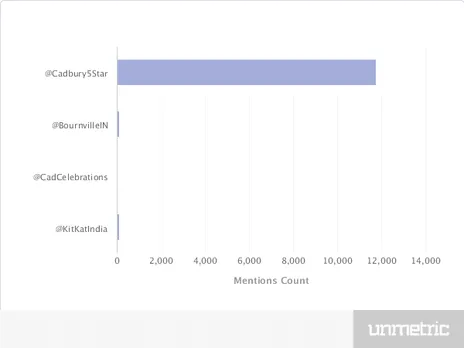 Applications and Campaigns
While it is true that KitKat (India) had the most apps on their Facebook Page, none of these chocolate brands were running any specific campaigns on their respective pages. This is why they hardly enjoyed any active users on their applications.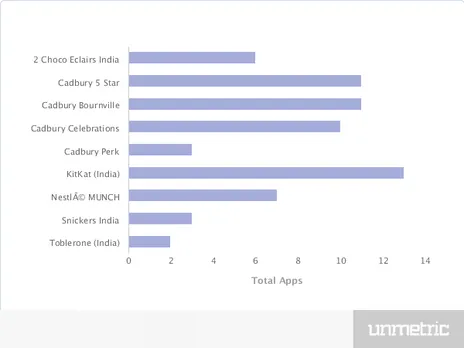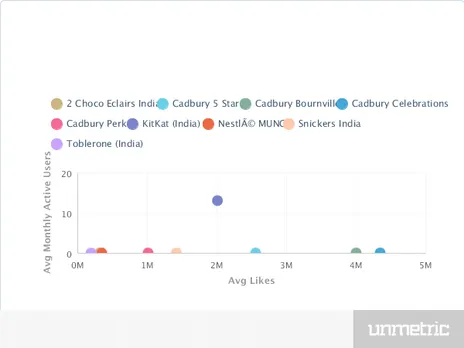 Sentiment Analysis
Nestlé MUNCH enjoyed the most (net) positive sentiment in the month of February. Their clever comeback- "Munch ka Punch" however, did serve a hilarious blow to its competitor!
Overall, most of these chocolate brands have more or less positive to neutral sentiments due to the obvious fact that most people love chocolates.
"Women crave it, men hoard it, and Aztec kings were said to have been the first to eat it."
Conclusion
Chocolate brands are not performing as well on Twitter as on Facebook. As I mentioned earlier, chocolate makers have the advantage of engaging with an audience that already loves their products, but regrettably, some of these brands are missing a great opportunity to strike a chord with their audience.
Posting irregularly, merely cross posting updates or being inactive on your social media presence can have an adverse impact on your brand. These brands should interact with their loyalists on a regular basis; only then, will your consumers take you seriously.
Chocolate is an impulsive purchase, but I hardly came across any eloquent writing appeals in the descriptions on these brands. I personally feel that these brands could work on their social media copy and be more creative in their depiction.
Munch ka Punch is an amazing example of brands impressively responding to insults in the digital age, with some wit and humorous content
Their proactive answer fetched lots of engagement scores and Fan growth. Needless to say, people love to follow entertaining brands on social media and it can help you gain credibility and visibility. So, the next time you are designing your social media plan, why not add in the funny side?
 Analytics support courtesy: Unmetric