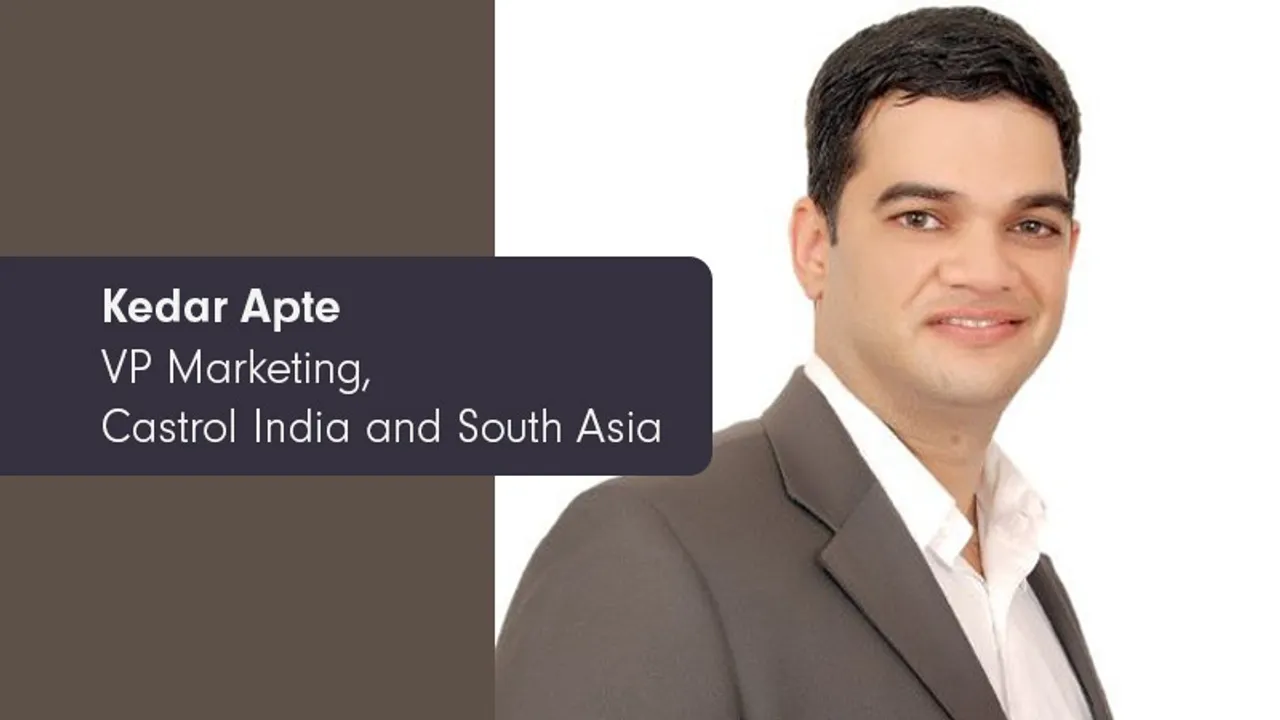 Kedar Apte, VP Marketing, Castrol India and South Asia shares his two cents on how brands can make the most out of their buck as they advertise with IPL.
What does it take to create an engaging sports marketing campaign? How do you reach out to the correct audience through your association with milestone sports events such as the IPL? Speaking about this upcoming IPL series, sports marketing, trends and more we have Kedar Apte, VP Marketing, Castrol India and South Asia.
Apte shares some really interesting examples and gives insights on how brands can make the most out of their association with the IPL franchise.
Excerpts below 
#1= IPL 2018 brings into its fold a new broadcaster and along with it brings onto play multi-platform, multi-language feeds. IPL will stream live on mobile, reach Indian homes through 10 plus channels and over 6 languages – all this brings into play a paradigm shift in the cricket ecosystem.  How can the marketers leverage the IPL in its new avatar differently over the previous season and gain maximum value? 
The IPL excitement is contagious—not only for viewers but also for advertisers as it's a great opportunity for them to build brand relevance. Star India has made heavy investments for securing the broadcast rights and they seem to have strong plans to leverage the same. I expect them to elevate the viewer experience for IPL by using innovative technology and programming to get viewers more involved across platforms and increasing engagement. As IPL is consumed across multiple channels and in several languages, viewers have more access to the tournament. That provides advertisers an opportunity to have a more targeted approach towards audience engagement, enabling them to build deeper connect.
At Castrol, we believe in leveraging our sports sponsorships in an effective and focused manner. For instance, as part of our ICC sponsorship deal from 2011 to 2015, we used the T20 World Cup – a popular property catering to both male and female viewers – to build our newly launched variant for gearless scooters – Castrol Activ Scooter. Comparing it to the different skill set requirement for ODI and T20 matches, our campaign focused on driving the insight of the need for a customized product for scooters  compared to bikes. While the opportunities and mediums have only increased, it's important for brands to have a focused objective and strategy relevant to the audience group involved to leverage it and gain maximum value.
#2- How do you think brand custodians can become more creative in leveraging and making their brands stand out?
The key is to understand the consumers, their interests and their motivations. Instead of the brand communicating with them about its offerings, it's important for the brand to engage the consumers on their passion points and make them narrate the brand story as advocates, as that's more credible. For instance, as part of our association with MotoGP for Castrol POWER1, a brand that provides superior acceleration, we engaged passionate bikers by curating experiences at nearby cafes or bars, enabling them to come together and watch a MotoGP match together. We also aim to offer our consumers and customers, customized, money can't buy experiences like visiting a MotoGP along with our brand ambassador.
We also invite our consumers to experience our brand – Castrol POWER1 first hand from the experts. This allows us to drive and sustain a deep connection with our audience, the bikers, as we enlist them as advocates for the brand.
To stand out and break through the clutter, the golden rule for brands remains to keep the consumer's wants at the core of the marketing mix and telling a consistent, relevant story.
#3- IPL in its franchisee format is the epitome of inspiration to other sports leagues such as PKL, ISL and PBL. The new age sports have done something Unprecedented – they have got kids, women and rural viewers closer to the sports channels. Nissan*used trump cards based on kabaddi players to drive sales. AMFI*has featured several players from the Kabaddi teams to increase awareness about mutual funds and to reach out to investors. What is your viewpoint on how the brands can embrace the growing sports and leverage on the same?
As the media landscape gets more fragmented, brands are experimenting with different media models to attain marketing objectives. The way in which a brand embraces different mediums or channels is derived out of those marketing objectives. For instance, the challenge for Castrol has been to get the consumer to understand the USP of our product i.e. the engine oil – a product which they rarely get to see, touch or feel – and understand its critical role for the vehicle and in their life. We connected Castrol Activ to PKL and used the brand proposition as an opportunity to introduce a property called "Clings To Your Engine" – showcasing the Kabaddi defense tackle where the defenders cling on to the attacker, a simple and insightful way to demonstrate how lubricants work similarly by clinging on and protecting the engine parts of the bike.
#4- With IPL 10, the association of brands is not just restricted to the television set. There is a growing focus on creating non-live content around IPL as fans are immersed in facets beyond just the cricket match. IPL now sees exclusive programming on auction, Pre/ Post shows, building team rivalries pre match, behind the scenes and what goes through the player's mind when they are preparing for important matches etc. What new dimension is this adding up in the marketer's landscape & how can marketers leverage this for their brand objectives?
While media companies will create a number of products with the intent to  generate revenue, marketers need to understand which is more relevant for their brand and target consumer.They also need to understand how target audience changes not just in terms of numbers but also in terms of composition for each of the products on offer.
#5- Which campaigns as per you are some of the most impactful ones on IPL? Since your brand has invested in IPL over the years, please share the objectives of investing in IPL and how successful has this association been? What metrics did you use to measure the success of your association?
In my view, Vodafone is a brand that leveraged the IPL well. Through the sponsorship and a lot of innovation, they grabbed eyeballs and made impact. Castrol has not been a sponsor of the IPL so far but continues to engage sports fans using our digital community – Castrol Cricket which currently has 1.1 Million followers.
The interview is a part of the series, #BrandsLuvIPL, featuring Top Brand Custodians and Marketers to ascertain the reach, impact and the untapped potential of sports marketing in India with reference to IPL.