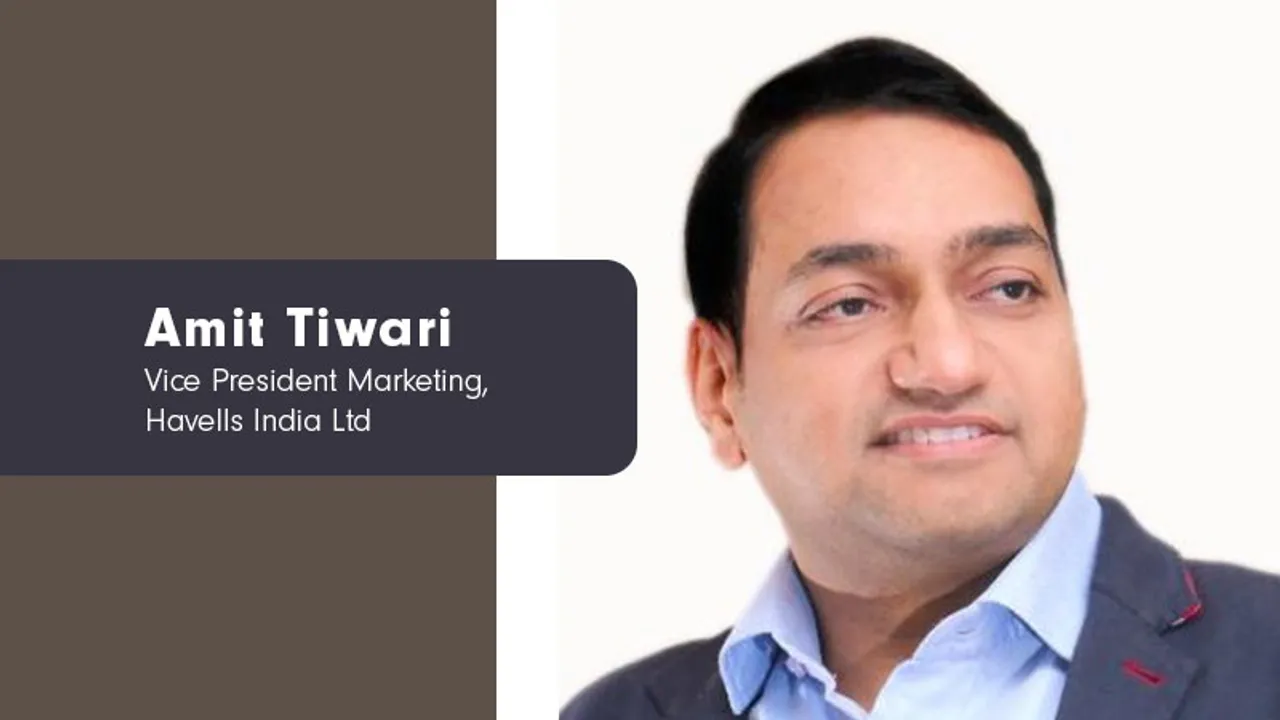 "The intelligent brand will be a brand that can actually look into the medium and the efficacy of the medium and the objective it is trying to attain keeping that medium in mind that is the only game changer today…."
Social Samosa gets in a conversation with Amit Tiwari, VP-Marketing, Havells India to understand how can brands go beyond theone-dimensionall marketing approach, to make the most out of the new opportunities that the upcoming IPL season presents.
Excerpts Below
IPL 2018 brings into play multi-platform, multi-language feeds. IPL will stream live on mobile, reach Indian homes through 10 plus channels and over 6 languages   
#1- How can the marketers leverage the IPL in its new avatar differently over the previous season sand gain maximum value? 
To start with, I will add a couple of things here, one is the Hotstar bit which is a new format added, that is definitely promising at the outset. The growth is coming only on the mobile portals or the platform that has been used.
If you also see the flip side there are 4 regional channels that have been added and there is an Ultra HD Channel Star Select that has been added for hard core cricket fans for which the affinity is quite high, though the reach will be relatively less in that case, the overall viewing experience has increased to multi-fold. And because it is increased multi-fold, your numbers look very big.
It is the integration of the platform across viewing screens 7 inches v 25/32 inch screen,  multiple avenues and vernacularism which has imparted fundamental strength to the particular ecosystem. If for example a client wants to do three different communication in three different languages you have the liberty to do that and simultaneously you can do a separate communication on digital as a platform. The width and the depth of the medium has actually increased quite significantly which lends the scope and flexibility to play within the medium.
#2- How do you think brand custodians can become more creative in leveraging and making their brands stand out among the clutter?
The biggest challenge is how innovative you are in using all the platforms for example if you see the length and breadth of available opportunities, you would realise that you can have separate communication primarily on Hotstar, you can focus on Standard Definition if you have a premium or a mass product, for extremely premium product you can go to High Definition and reach out to audiences with high affinity and who are quite involved.
Having said that you can utilise large and regional markets so that you don't have to have same communication and it can be actually be characterised by that.
The intelligent brand will be a brand that can actually look into the medium and the efficacy of the medium and the objective it is trying to attain keeping that medium in mind. It is the only game changer today as it is rightly said there will be many brands who will be fighting for the same space, clutter would be enormously high because that's the highest tempo during that period, only then we should be able to leverage the entire scheme of things.
IPL has inspired other sports leagues such as PKL, ISL and PBL. Offering brands creative & multiple opportunities to leverage sports. Nissin*used trump cards based on kabaddi players to drive sales.AMFI*has featured several players from the Kabaddi teams to increase awareness about mutual funds and to reach out to investors.
3#- What is your view on how can the brands ride upon the unique opportunity that sports genre offers?
Yes, the focus on Sports has increased notably, and it will actually make lot of grounds in future also. Marketers have started looking beyond.
Previously sports meant only Cricket, now the horizons have increased people have started looking out for different sports. Badminton has become quite popular now with excellent players who have lifted India's pride on global forums, tennis league was started but couldn't pick up well, kabbadi has emerged as a prominent league in the recent times.
There are enough and more opportunities coming up, the only thing marketers have to match is as per brand journey, and brand stature, which particular sport gives the maximum affinity, because no sport apart from cricket will give that amount of reach.  If a brand is looking for affinity audiences which results into good brand salience, the perfect match is to go with sports genre and that's the way the entire ecosystem is evolving.
There is a growing focus on non-live content around IPL as fans are getting to see facets beyond just the live match. Auction, Pre/ Post shows, building team rivalries pre match, behind the scenes etc.
4#- With additional dimensions like the above opening up, how do you think marketers can creatively leverage this to further their brand objectives apart from regular advertising?
So there are two answers to the question, First is it is too much of clutter, do you think the consumers of this content are really interested in watching what team has gone to what, because that content if I want to consume I can do that as bracket content on my news channel , why would I really want to invest as an appointment viewing and viewing that audiences by sitting and watching that who is actually being bid and by which personality, that is too much of stretch to take.
On the contrary if you see how creatively, you can get not only in IPL 11 season, you can actually create lot of variety of content from the first year to the 10th year, because when we look as a marketer, we should also keep in mind, what would be the consumer interest in watching that. What is the one hook that hits the sweet spot. Hook should not be stretched too much otherwise people lose interest, because cricket is happening every month. Why would I look for a content which is old or build up to the entire event, that is when it will become difficult to have the consumers eyeballs and attention
So you think consumers are more hooked to the actual game and the kind of active integration brands like Yes Bank or Karbonn have done in the past work better?
Yes, brand should aim for such integration, because these integrations directly relate to the game that is happening. For example, last time Strategic Time Out by CEAT, it is directly integrated with the game. You are not doing any red carpet or precursor of the game, because viewing time or attention span of consumers are decreasing, so marketers have to concentrate on getting maximum viewership from the content they are interested in rather than forcing a content that a consumer has to stretch to watch.
#5- Since your brand has invested in IPL over the years, please share the objectives of investing in IPL and how successful has this association been? What metrics did you use to measure the success of your association?
In the past 10 years, we have invested into IPL extensively, last year also we had associated with Bangalore team which had Lloyd Logo on the right chest. We have devised campaigns which focused on the product, value of the product and the brand.
Associations have been quite good, the entire ecosystem has been relevant, because it is the biggest tentpole in that period of time and the new format of the game has definitely led to a huge rub off on the brand per say. We have seen a lot of success in terms of how brand has been benefited and the overall impact association of the property. Brand recall, brand impact and also what is the category rub off on the overall proposition are some of metrics we use to measure the success of our association.
Vodafone's ZooZoo campaign stands out in most minds as one of the most unique & engaging campaign around IPL
#6- Which other campaigns as per you are some of the most impactful ones on IPL?
Pepsi is a good example the way had actually painted the entire property blue with on ground and on air associations that's one of the connotation effect you can actually see, how to own a property in a real sense.
Also smart way to do it is the CEAT example, that a good amount of brand recall that you can actually create, and create top of the mind awareness within the audiences with the high impact property. These two brands that come to my mind that have done really good job.
#7- What are  some of the key trend marketers need to tap on to win over new audiences in this ever evolving sports marketing environment
In terms of sports marketing, the first thing every marketer need to know is entire consumer decision journey in his or her category. How is the consumer decision journey evolving and sports can't be a part of a media plan which is just a property there has to be separate thought process in what does a sport would do to you in return to the brand, whether it is brand rub off or brand association, or whether recruiting new consumers in the category then you need to answer what exactly is the point you need to look for.
For example, if your recruitment category is an early recruiter, let's say, in a category like trimmers or shavers, which is first time recruiters, 13 to 18 years, which sport will actually be more affinitive, not only in terms of reach but also high saliency to the game and high association to the game. You can't just blindly go in terms of reach numbers where your 80% of the reach is a waste and only 20% you are trying to gain. So you have to actually apply the principle of Affiniated Reach rather than just a pure reach number. That will actually give you an association for a very long time.
Second thing marketers should look for a larger horizon just one property for one year will not help you. If you have an interest and an inclination towards the game go for at least three years. Then you can actually see what is the return on innovation and return on investment and return on insight that you can get and build a larger property.
The interview is a part of the series, #BrandsLuvIPL, featuring Top Brand Custodians and Marketers to ascertain the reach, impact and the untapped potential of sports marketing in India with reference to IPL.