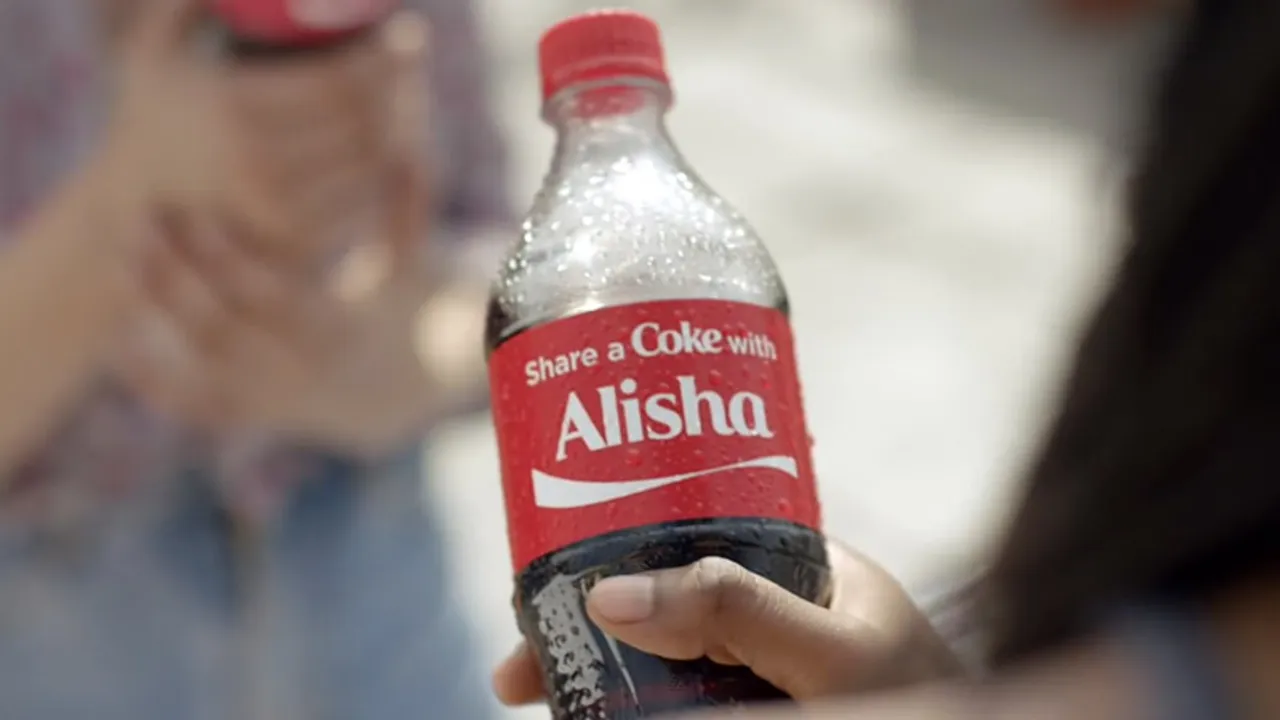 The rise and rise of Share a Coke has been a marketing marvel to say the least. Now with the India leg in full on action, Social Samosa take's a look at how the Share a Coke campaign came into being.
Is there anything better than a personalised gift that can be shared without any specific occasion? Coca Cola seems to think there isn't. What started as a 2011 summer campaign in Australia has now spread to over 50 countries across the globe, including India. But, can you really be a hit in India, unless you go desi? Seems like the cola giant has gotten it right! Share a Coke campaign is an interesting one and worth digging into. So, let's begin!
Bringing its token campaign, Share a Coke to India, Coca Cola has taken a step to hit the Indian consumer with the power of relationships, illustrating how the brand can play an essential part in the expression of love. The use of the Devnagri font to spell out words like Bhai, Didi, Ma, and Papa is a win-win. The 'Har rishta bola, mere naam ki Coca Cola' with an old school tune adds to the effect. 
&feature=youtu.be
These efforts remind us of the good old, 'Thanda Matlab Coca Cola!' 
When the idea was conceived in a conference room halfway across the globe, we wonder if the people involved had imagined the impact of what they were working on. They had begun with popular names scribbled on Coca Cola cans. As the popularity grew in multiple countries, other words too got branded over the cans and bottles, with a focus on how you can share the beverage with a person you want to share your happiness with.
https://www.facebook.com/cocacolaindia/videos/1586315798090215/
You can, of course, use it to even send a not-so-secret message across! Can you think of a better to subtly appreciate your boss and ask for a promotion?
https://www.facebook.com/cocacolaindia/videos/1592796970775431/
Lucie Austin, who was a big part of the 2011 team, explains how one of the results in the brand's research was that even though teens and young adults liked the iconic image of the beverage, some people felt as if Coca Cola wasn't talking to them on an eye level. "By putting first names on the packs, we were speaking to our fans at eye level," she says. 
After being a hit in Australia, using summer Christmas as a strength, the brand moved on to the US and China. In the US, names were all the rage. In China, however, they went a little dramatic, customising the bottles with movie quotes, in sync with the country's love for movies. Interestingly, Coca Cola seems to be a genius when it comes to adapting to the markets they wish to target for the same campaign and that they expand gradually, in waves, over years!
After the initial popularity of the campaign, Coca Cola digitally expanded it as a customisable gifting option. They also added more names to the list of on-the-shelf picks. According to the beverage brand, in 2014, #ShareaCoke hashtag had 2,35,000 tweets to its credit, with 998 million impressions on the micro-blogging site. On the sales side, they had been successful in selling more than 7,30,000 personalised bottles via its e-commerce store. 
"The campaign capitalised on the global trend of self-expression and sharing, but in an emotional way," said Lucie. The campaign eventually led the brand to pick up seven awards at the 2012 Cannes Lions festival. Emotions were definitely at the centre of the campaign, seeping into marriage proposals sand pregnancy announcements, making them extra special and quirky. 
https://www.youtube.com/watch?time_continue=87&v=h5yyzdgnxoc
For those who weren't yet ready to be hitched, Share a Coke became a tool for new beginnings. 
Coca Cola and their innovative installations, when combined with Share a Coke campaign were a hit like no other. 
The best part, however, is that this is a campaign that resulted in a significant increase in sales. 
As the campaign trickles down to India, we can't help but find a link to a campaign that made headlines last November, when Snickers came out with symptoms of being hungry on their chocolate covers. 
A brand that willingly gives you ownership of the product in such a direct way is bound to be remembered for creating memories. So, which campaign do you think has adapted the concept better?