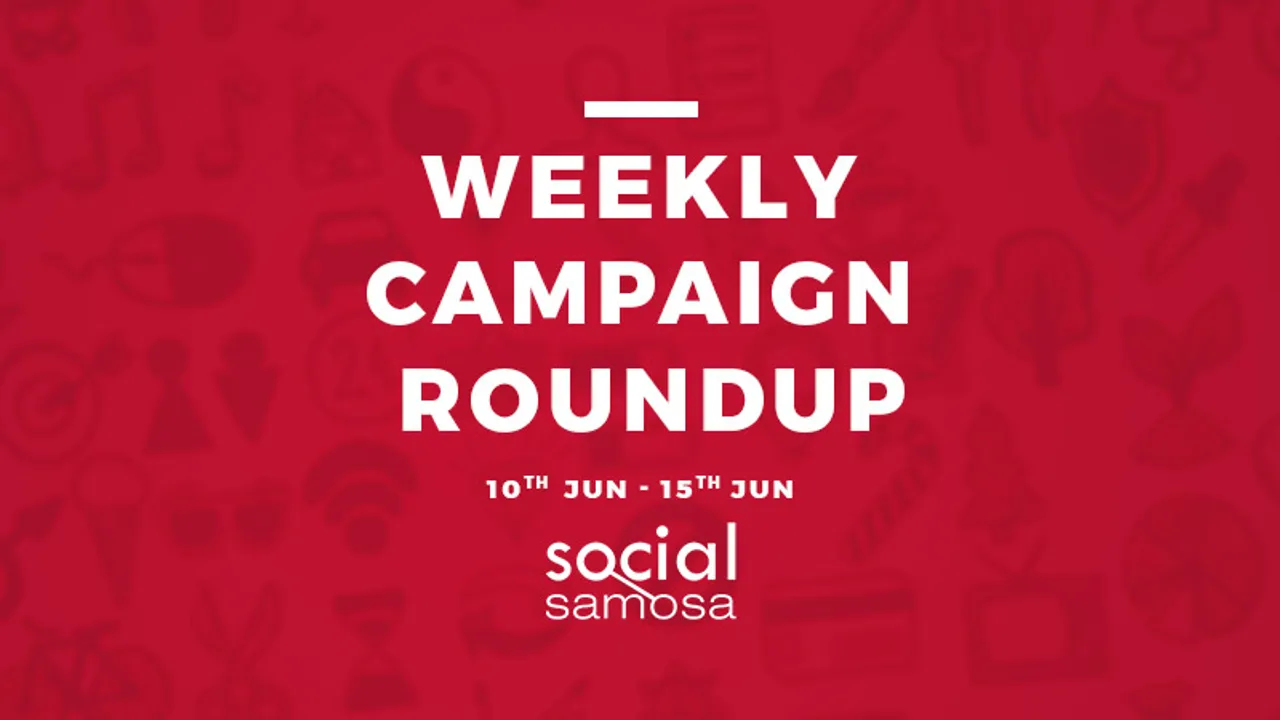 Here's to another week of some impressive work from brands and agencies all over the world. Check out some of the digital marketing campaigns that were rolled out this week.
Social Samosa's weekly social media and digital marketing campaigns roundup this week contains an extensive coverage of campaign films and spots from the flavour of the month, the FIFA World Cup 2018 featuring brands such as Adidas, Nike, BWIN and more.
The World Blood Donor Day was also observed this week and the digital spectrum was abuzz with activity as brands played their part towards motivating and encouraging people to donate blood and save lives.
On a separate note, Social Samosa elaborates on Scotch Brite India's all-new cause marketing initiative, and we gloss over some other noteworthy digital marketing campaigns that were rolled out this week such as Lee Cooper India's Master Of Denim contest with a string of popular youth Influencers, Indiabulls' emotional campaign film in preparation for Father's Day, among other campaigns from The Times Of India, Uber India and more.
Learn more about the trending and hottest new social media and digital marketing campaigns with Social Samosa's weekly social media campaigns roundup for a condensed summary of the industry.
Lee Cooper India delves in influencer outreach with Master Of Denim
Apparel brand Lee Cooper India recently organized a social media contest titled Master Of Denim and roped in some popular Indian celebrities to be a part of the campaign. Rithvik Dhanjani, Adah Sharma, Shantanu Maheshwari and Nia Sharma participated in the extensive social media campaign. Read more about it here.
In its maiden campaign, Behrouz Biryani narrates the tale of their origin
Behrouz Biryani, an India biryani brand in the country with Persian heritage, launched its first ad campaign, Behrouz Biryani Story, today. Crafted by BBH India, the film takes you through a gastronomic journey tracing the origins of biryani. Watch the campaign film here.
Adidas' new World Cup campaign – Creativity Is The Answer is high on star power
Few do a World Cup ad like Adidas, and the German sporting brand is poised to outdo itself for the 2018 edition of football's biggest global event with a new spot titled, Creativity Is The Answer. Check out all the global superstars featured in Adidas' FIFA World Cup spot here.
Some of the most striking 2018 FIFA World Cup campaigns
The FIFA World Cup has always been an extraordinary event, no doubt, descending from television screens to unfolding within the grasp of our hands. The iconic television ads have now been replaced by mesmerizing and elaborate campaigns, and here are the best World Cup campaigns from 2018. Check out all the FIFA World Cup 2018 campaigns from Adidas, Nike, Diario Ole, BWIN and more here.
Indiabulls celebrated the 100% Dad in a heart-touching video!
With the day for an ode to fathers inching towards us, let us take a brief moment to revisit one of the Father's Day campaigns that celebrated Dads and all their hard work. Watch the moving Father's Day campaign film from Indiabulls here.
World Blood Donor Day campaigns spreading awareness and hope!
World Blood Donor Day is celebrated on 14th June to express gratitude towards blood donors, and raise awareness around the need for safe blood and blood products that save millions of lives each year. Brands too join the cause and contribute with World Blood Donor Day campaigns to help spread the word. Check out all the brands that participated to further a good cause, here.
MTV's quirky take on World Blood Donor Day!
On the occasion of World Blood Donor Day, MTV launched a new campaign titled Pehle blood donate karo, baad mein show off karo. As part of the MTV Blood Donor Day campaign, a video was posted on MTV's official Facebook page. Watch the campaign film here.
Expert Review: Meet Gossip Aunty – Scotch Brite's attempted twist on cause marketing
Cause marketing has been adapted by an array of brands until recently to connect rightly with their consumers and the Scotch-Brite digital campaign is the next to join the bandwagon. We spoke to a cross-section of industry experts decoding the campaign. Read the expert opinion from industry professionals here.
How TOI's #FlirtWithYourCity conquered social media
Times of India's Flirt With Your City attempted to take over social media with beats, raps, and celebrity factor! 'Mumbai Mera Bhai Kasa Kai Bara Hai' is something you will find yourself crooning 'on repeat' once you listen to the Bombay city rap created by Rawshark Films for Times of India's latest campaign, Flirt With Your City. Read more about it here.
Can Virat drive Uber towards success with #BadhteChalein?
Uber Badhte Chalein gets mixed reaction for roping in Virat Kohli. Social Samosa attempts to understand how Kohli as a brand ambassador affects the brand. 'Each trip represents more than just a physical journey', connecting millions of people every week – formed the insight of Uber India's latest brand campaign. Check out the audience reception and industry opinion about Uber India's latest campaign and their choice of Virat Kohli as an ambassador here.
Check out more social media and digital marketing campaigns on Social Samosa here.