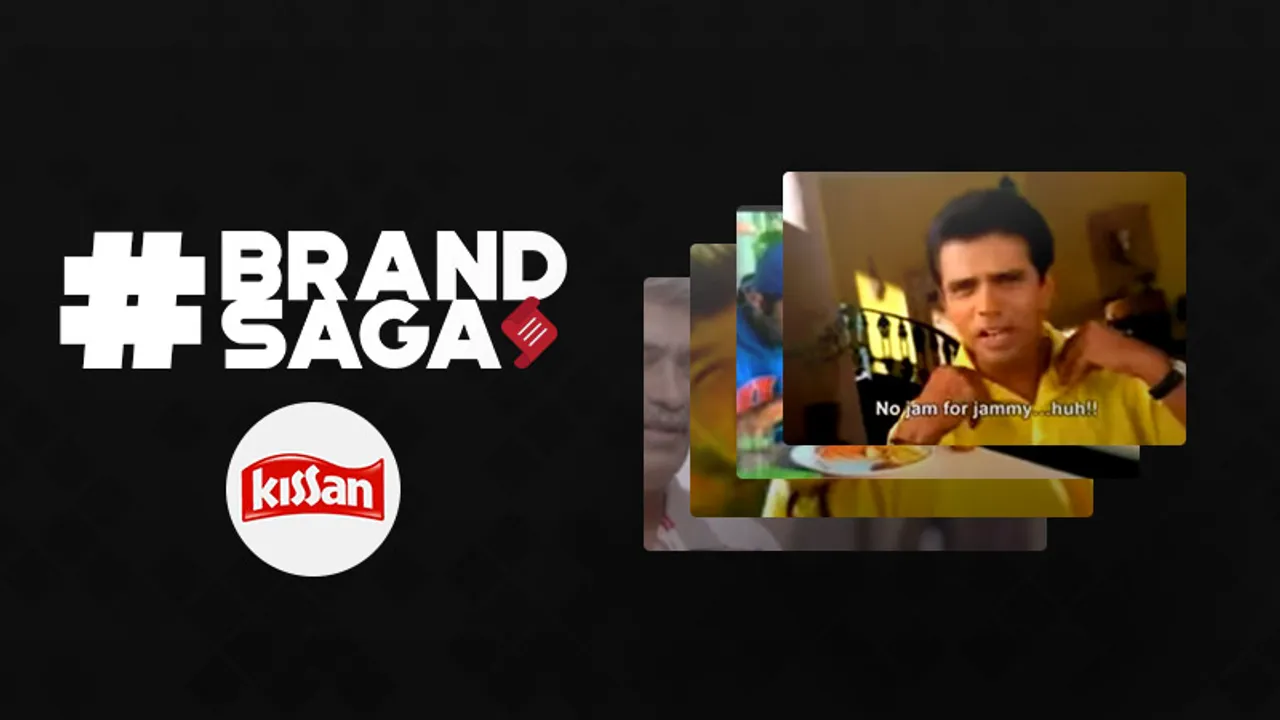 This week's #BrandSaga pays ode to Kissan's advertising journey which transformed and personified itself at every stage adapting Jam - to the Indian consumers' needs and tastes.
An alternative to Sunday's poha is the sweet 'jam' and bread, a replacement for chilly green chutney to samosa is always the savior- ketchup. It was never a thing of the past and will never be. The Saga of jam and ketchup being the ultimate choices is eternal, the duo has been with us literally in our thick and thins. From experimenting chapati rolls with the layer of ketchup to alternating veggies with jam, we all have tried and tasted the combo with our favorite duo.
What better a brand than Kissan ketchup and jam to roll out with this #ThrowbackThursday where we traverse the brand journey and what makes them a brand more than jams, ketchup and squashes.
The 'saucy' beginning
The story dates back to the pre-independence era when India reeled under the British Raj and waited to see the light of 'azadi'. Although Kissan sowed it's roots in the year 1934, it was acquired by UB Group in 1950 and later in 1993 was bought by Brooke Bond India happily being a member of the Hindustan Unilever Limited (HUL) family till present.
The company's website takes pride in claiming that Kissan is more than jams, ketchups and squashes. It's about kids eating happily and in turn, growing happily. The history says that when the trains passed through the Punjab region in 1930s, they made a stop at a processing unit where farmers sold freshly picked fruits. Locals called this spot Kissan and from there it became a household name by introducing the right balance between quick fix meals and adequate nutrition-  spreads and dressings.
The advertising galore - Jam Jam Jammy
The ready-to-eat packaged food category knocked the door as the need of the hour for mothers who wanted to keep up with the steady movement of life and let the kids not suffer in the hustle. In the 90s, most of Kissan's advertising focused on the product and placing the jams and ketchup as the go-to spreads in the supermarket. According to a superbrand report, the key challenges at this point of time was to create a discernible differentiator and identify a brand ambassador.
HUL got onto take the initial step by promoting Kissan jam made with 100% real fruits and vegetables. Later to boost the positioning of the brand in the market, Kissan got on board ace cricketer Rahul Dravid to bat the right way through the campaigns.  Dravid's father Sharad Dravid worked for Kisan and nicknamed his son Jammy. And rest they say is history.
The television and print medium was flourishing in the 2000s and brands did their best to put most of their marketing budget in the mediums for strong visibility. While Kissan's 'Jam Jam Jammy was already a hit which also made it rule the market, the print ads were crafted equally creative.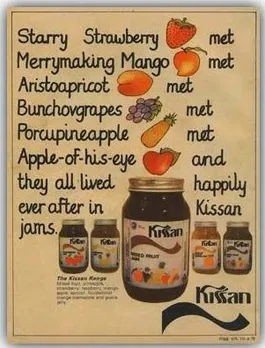 They read- 'All your favorite fruits come together in Kissan Mixed Fruit Jam to make one great flavor.' 'Think of different ways to eat it in. Spread it on the crunchy cracker. Roll it up in a chapati. Drink it stirred in milk. Kissan's fruity goodness makes almost everything more delicious'.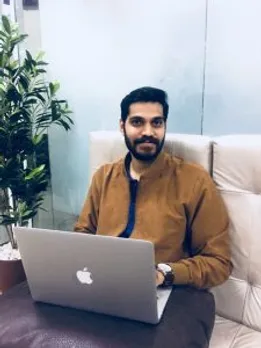 "Talking about my earliest memory with Kissan, the dozens of sandwiches I and my friends have gobbled over the years of my childhood would never have been that appetizing without that thick, red Kissan sauce," exclaimed Akshay Samel – Head of Branding and Communications, The Minimalist. 
The very thought of Kissan subconsciously teleports Samel to a 'red haven'. According to him, it is difficult to think of Kissan and not think of red. He added, "Few brands have carried the colour red so vivaciously and amicably than Kissan. Fundamentally, the phonetics of the word 'Kissan' should construe a very earthy image in one's mind but on the contrary the brand Kissan successfully creates a very modern, vibrant, youthful imagery. That's successful Branding! Campaigns like Kissanpur have done wonders in connecting people across age-groups, across strata." 
A little sweetness goes a long way
Kissan's smart marketing and advertising led to increasing sales in the 90s. Cut to 2000, it was already leading the jam market and was on par with Nestle's Maggi tomato sauce in the ketchup category. The competition was head on and both the brands enjoyed a fair share of the market. The company was also heavily promoting it's squash variants at the time ranging from Mango to Lime for a refreshing experience.
Campaigns like 'Aaja Aaja- Tomato Ketchup' claiming to be  Deliciously Thick while Aaja Aaja Mein hu pyaar tera plays in the background (yes, Bollywood songs integrated in brand campaigns is a past-trend) and 'Rangeela Vada featuring Hindi film actor Shiney Ahuja saying 'Just lagao, Kuch bhi khao!' have made Kissan ketchup 'the forever essential'
Keeping up with the modern market- Yummy taste of 8 fruits
Kissan took upon itself to make nutritious food interesting for kids who often miss their breakfast to avoid consuming simple chapatis. Meanwhile, Indian mothers found it difficult to convince their sons and daughters for imbibing the habit of healthy breakfast.
The age-old brand quickly identified this need gap and became the first one to tap the opportunity coming up with 'Yummy taste of 8 fruits'. The focus was now to expand the category consumption and Kissan had rolled it's sleeves to not miss out on the loyal consumer base. The modern market demanded variety and, to fulfill every consumers' taste buds, the brand pioneered flavors and variants that compliment every snack, base, and occasion.
From the Fresh Tomato Ketchup to the newly launched spicy range and Kissan jam's pulp of eight fruits have been making breakfast a yummy treat for all of us since years.
The magic of 'Real Tomatoes and Fruits'
In 2006, Kissan made our desi snack 'Samosa' a hero of their campaigns with 'Aao banaye Samose behtar'. Good product distribution and availability teamed up with targeted advertising made Kissan products reach every kitchen shelf. Later in 2011, the brand brought on board Juhi Chawla to bring back the magic of 100% real tomatoes filled Kissan Ketchup for kids who are weary of eating raw tomatoes and different veggies.
'Kissanpur' brings Real Joy
While various advertisers marketed their product positioning them 'organically created' with natural ingredient' it became challenging for them to substantiate the claims in real time. Consumers started questioning and brand policing waved through.
During this time, Kissan undertook intensive consumer research programme to integrate the findings in its communication ahead and re-build the connect - in a much stronger way this time. And 'Kissanpur' was born. In 2012, HUL took an innovative approach by distributing tomato seeds with newspapers to encourage kids to grow their own tomato plants and ask them to tell their tales on the specially created Kissanpur website. In life is in spending real time with our loved ones doing simple things. Kissan's campaign Kissanpur captures this philosophy and provides parents and children to experience #RealJoy through a simple act of growing tomatoes.
Bringing in their innocence, the children targeted campaign became an immediate hit and fuelled conversations in the digital verse. The main intention of the campaign was to let their consumers know about the authenticity of the Kissan products and that they are made from 100% real fruits and tomatoes.  "Kissan 100% real blogger" invited bloggers to share their 100% real experiences of growing up and was followed with a digital film of "Kissanpur – the real joy of togetherness" that managed to connect the brand to parents on an emotional level. The 4-minute ad film has 2.7 million views on youtube.
Next up with 'Kissanpur- Farm of Real Joy', the brand tied up with PVR Cinemas to build a farm of Real Joy in the middle of the concrete jungle for families to come and spend real time together in the midst of nature, leaving their gadgets aside.
From 100% Natural to Discovering Real Togetherness
The product-specific advertising had taken a backseat now. The inception of Kissanpur led Kissan to explore and touch consumer sentiments like no other simultaneously engaging with them on various levels.
What can really make us happy? Asked Kissan launching  Kissanpur – Discovering Real Togetherness. All those long hours spent by our bedside telling us stories, protecting us from mom's anger and indulging us when nobody else would our grandparents have been with us ALWAYS! In the rush and rigor of life where the family usually ends up on the back seat of our priorities, few are more neglected than them.
In Kissan's Discovering Real Togetherness aimed to be a reminder that those gentle souls, who once were the heroes of our summer vacations, need nothing more than a little time and attention from us. It is a slice of life depiction of the joy and warmth of togetherness you get from a grandparent when you simply make a little time for them.
The Kissanpur campaign has won accolades globally and over 35 awards in India. Kissan is the only Indian brand to win the Grand Prix at Spike Asia and the first Indian brand to win Silver at America's prestigious Jay Chiat Awards. It has also been recognised at the Effies every year since 2011 for effective marketing.
#RealTogetherness boosted through Social Media
Using content marketing and sharing a philosophical DVC, Kissan showed how everyone is getting connected but still driving each other away from their family, children and how one random act of kindness can bring about the much change that is needed. The brand created #RealTogetherness to drive engagement around the video as opposed to going down the traditional contest route.
Do you agree? #RealTogetherness #Friendship #Love #ShaadiQuote pic.twitter.com/HoNhLQglpR

— Shaadi.com (@ShaadiDotCom) October 16, 2015
Story time with my daadi is what I miss the most. All these emotions have resurfaced watching @KissanIndia video that shows the special bond of #RealTogetherness in the cutest way. Can't wait for my daughter to share special memories with her grandparents. https://t.co/wmj716pClQ pic.twitter.com/muw3LfEHsJ

— Soha Ali Khan (@sakpataudi) December 13, 2017
One is always happy amidst the warmth of their grandparents. Love the #RealTogetherness this picture brings out. pic.twitter.com/Po0kRrDoiE

— Kissan India (@KissanIndia) November 27, 2017
Here is my precious memory with my grandfather  @KissanIndia #RealTogetherness. pic.twitter.com/qUfwkyruCY

— Mr bean (@ImDivyansh__) November 14, 2017
It was executed on social media and tweets with hashtag #RealTogetherness were seen rolling out that reminded the forgotten joys of togetherness.  In August 2015, Kissan commanded a market share of over 60% in the jam category and 25% in the ketchup category.
The Tiffin Test'
Once again the focus was on the kids' tiffin box. To retain the loyal consumer base and maintain a top of the mind recall, Kissan revived 'Ungli ghumake Ke bol' with a twist. The campaign was aimed at giving mothers a quick solution to getting their children to eat tasty, nutritious food with a Wow factor. Kissan went the integrated marketing way using print, television and digital to release new tiffin roll recipes every day and communicate the messaging.
Lowe Lintas has been the creative agency of Kissan India since 1994 and the mastermind behind all their successful stints at advertising and creating forever bonds. The colour Red, while primarily, signifies Love it also makes the ketchup and jams from the house of Kissan stand out in the cluster falling straight onto our bread.