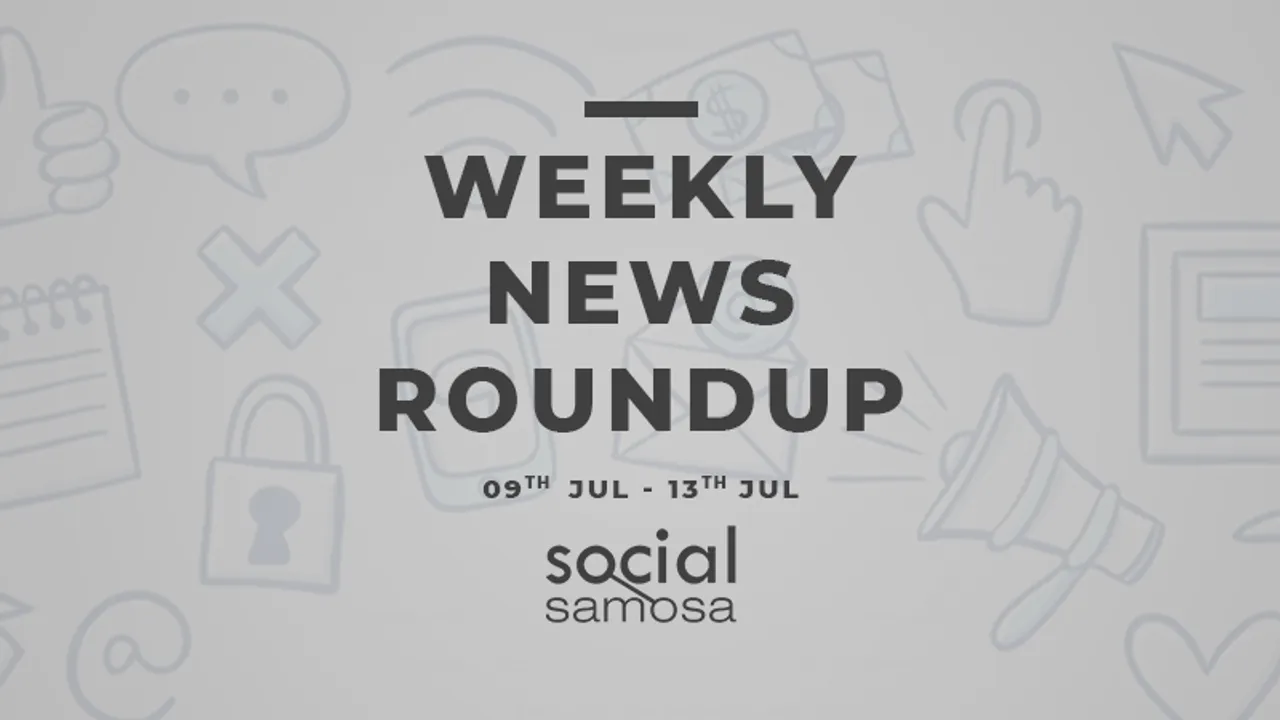 It is never a quiet week in the realm of social media platforms as the tectonic plates keep shifting with new features, products, tests, and other news coming in every day. Here is our weekly roundup of social media news and activity from the industry.
Social Samosa is your gateway to keeping up with the hottest social media news and updates, proceedings and trends from the digital marketing industry, brand campaigns and more.
This week's social media news was dominated by the testing of authenticity, fake news, account information and security provisions on all the social networking platforms. In another news, Amazon Prime and Twitter come together for a live chat with the entire cast of Comicstaan.
Check out all the other important social media news and updates that surfaced online this week.
Twitter to remove locked accounts from a users' follower count
Twitter Follower count are a visible feature, and Twitter aims for everyone to have confidence that the numbers are meaningful and accurate. This week, Twitter will be removing these locked accounts from follower counts across profiles globally. As a result, the number of followers displayed on many profiles may go down. Read more about it here.
Instagram testing 'account verification' option for all users
Always longed for a blue tick for your Instagram account? The latest internal development of the Facebook owned app states that now any user can apply for Instagram account verification following certain steps. Instagram account verification is under testing and  made available for iPhone users for now in countries like Australia and a few more. Read more about it here.
Amazon Prime Video & Twitter to Live stream Q&A with Comicstaan cast
Twitter is where Entertainment conversations happen and Amazon Prime Video is the latest brand to tap into the global entertainment fan community on the platform. Amazon Prime Video India, in collaboration with Twitter India, will live stream a special Cast Q&A for its upcoming comedy reality TV series Comicstaan on Twitter. Read more about it here.
Facebook Messenger to help you identify fake accounts and report
The issue of cyberbullying has increased in the past few years, resulting in incidences that affect adversely mentally and socially. The social media giant, Facebook is trying to tackle the issue of fake accounts that are also one of the root cause of the issue. Read more about it here.
Instagram's 'Ask Questions' feature make for easy recommendations
After testing the feature for at least a month, Instagram has finally rolled out 'Ask Questions' feature in its stories which is available only if you have the latest updated version of the app. There are already yes/no polls and emoji sliders that can be used with questions. The questions sticker is available as part of Instagram version 52 on iOS and Android. Read more about it here.
Search for thousands of community lenses on Snapchat just got easier!
Starting today, Snapchatters will have an easier way to discover and unlock thousands of Lenses built by our global creator community. Since Lens Studio launched in late 2017, creators have submitted over 100,000 unique Lenses through the tool, which have been viewed by Snapchatters over 2.5 billion times. Read more about it here.
Raheel Khursheed moves on from Twitter India
Kashmiri Journalist turned online activist Raheel Khursheed has decided to move on from his role of Head – News Partnership, Twitter India & South east Asia. After serving the micro-blogging site for over four and a half years, Khursheed announced of his decision to quit Twitter in a tweet itself. Read more about it here.
Facebook testing Stories Highlights feature
If various reports are to believed, Facebook is following Instagram's footsteps of making your favourite stories live with you forever in the form of Facebook Stories Highlights. The social media giant introduced new features such as Facebook Stories on desktop and Facebook Stories ads. Read more about it here.
Snapchat and Amazon reportedly come together for 'Camera Search'
After Instagram made it possible for us to shop through its stories, Snapchat is reportedly teaming up with e-commerce major Amazon for a snap camera, a Visual Search Engine. The Snapchat Amazon partnership has a lot in store with Camera Search. Read more about it here.
To read more news stories on Social Samosa, click here.