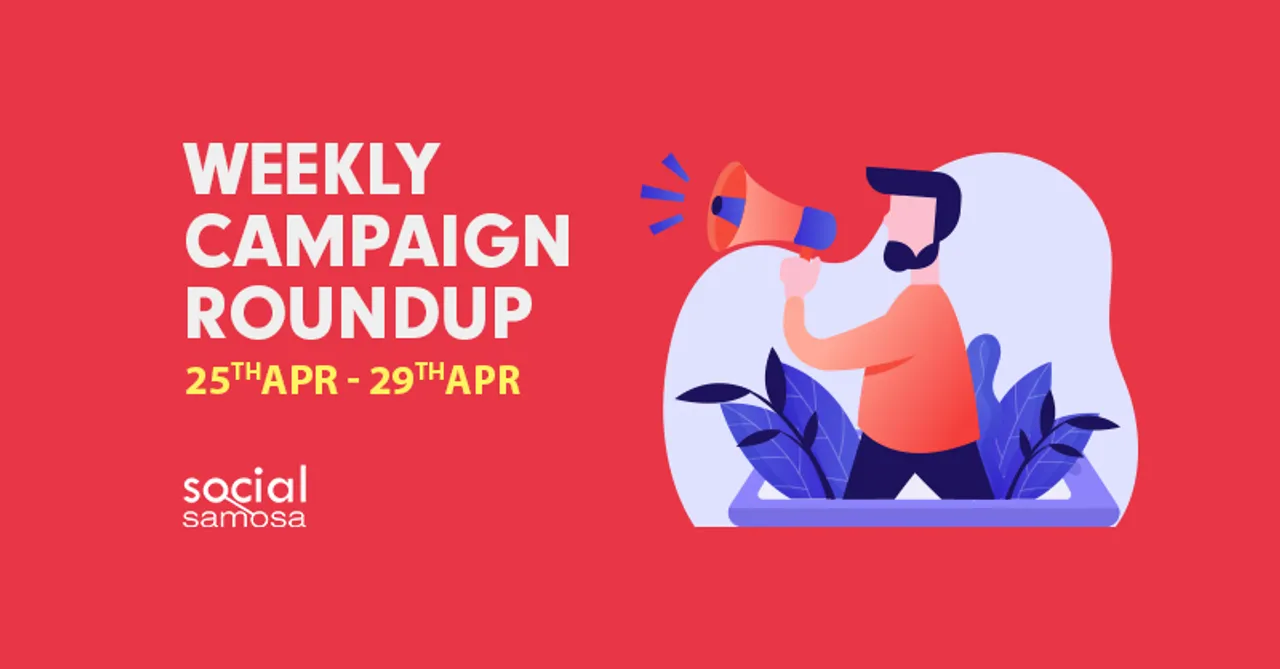 Here's to another week of social media campaigns rolled out along with editorial pieces by Social Samosa.
Social Samosa's weekly digital marketing and social media campaigns roundup this week features Myntra's new campaign, Vivo's new launch and more.
Social Media Campaigns
Maruti Suzuki Arena introduces the Next-Gen Ertiga with a stylish campaign
Maruti Suzuki Arena comes up with a new campaign to showcase and bring back the long-lost outdoor fun and activities in their new campaign for Ertiga. Read more here.
Myntra ropes in Kiara Advani and Samantha Ruth Prabhu in new campaign
The campaign by Myntra addresses the mindset of self-doubt that exists among the Gen Z and millennials and urges shoppers to be confident. Read more here.
How Uber India leveraged influencers for #BasSochoAurChalPado campaign
Here's a look at how Uber India created a 360-degree campaign BasSochoAurChalPado for their affordable category. The brand roped in influencers to maximize the reach and engagement around the campaign. Read more here.
Vivo launches its brand purpose film #LiveTheJoy in India
Vivo hopes to help consumers recognize moments of Joy in their lives through their latest brand film – #LiveTheJoy. Read more here.
Bangladesh based clothing brand Warah launches The Nameless Woman campaign to solve an integral issue
Wunderman Thompson, India & Warah released an activation campaign, The Nameless Woman Project, to help women in Bangladesh regain their sense of self. Read more here.
In-Depth Features
Expert Speak: The question of the future of Twitter in the hands of a futurist owner
Social Samosa gets in conversation with industry experts to understand what a free-speech Twitter means and how the Elon Musk reign impacts the platform's advertisers and users. Read more here.
Superwomen 2022: If you are a creative problem solver then you are my Superwoman says Aksha Sachdev
Aksha Sachdev of Fractal Ink Design Studio talks about how the pandemic showed us the truth about the gaps in work culture and how that can be changed. Read more here.
#SS40Under40 In the era of digital assets, quantity seems to be taking over quality, says Sumit Chaurasia
Sumit Chaurasia of Famous Innovations talks about how tech companies have been absorbing young talent for setting up in-house marketing teams, changing marketing dynamics, and more. Read more here.
Spikes Asia Case Study: How Better Half Recipes enabled Swiggy Instamart to outpace category growth in Q1 2020
The Better Half Recipes for Swiggy Instamart won a Silver at Spikes Asia 2022. The case study explores how the campaign came into being and resulted in 14% engagement in the quick commerce category that was still to find its place in the country. Read more here.
Scroll Through
Brand creatives stir up a jamboree on Elon Musk buying Twitter
Social media platforms have been filled with reactions, memes, and opinions on Elon Musk buying Twitter; here are a few brand creatives that touch upon the topic and surf on this topical wave. Read more here.
Metaverse For BFSI: An important marketing medium or a passable trend?
Prasad Shejale talks about how financial institutions can use Metaverse for communication – making it the newest addition to the BFSI marketing plan that can lend a helping hand in its evolution. Read more here.