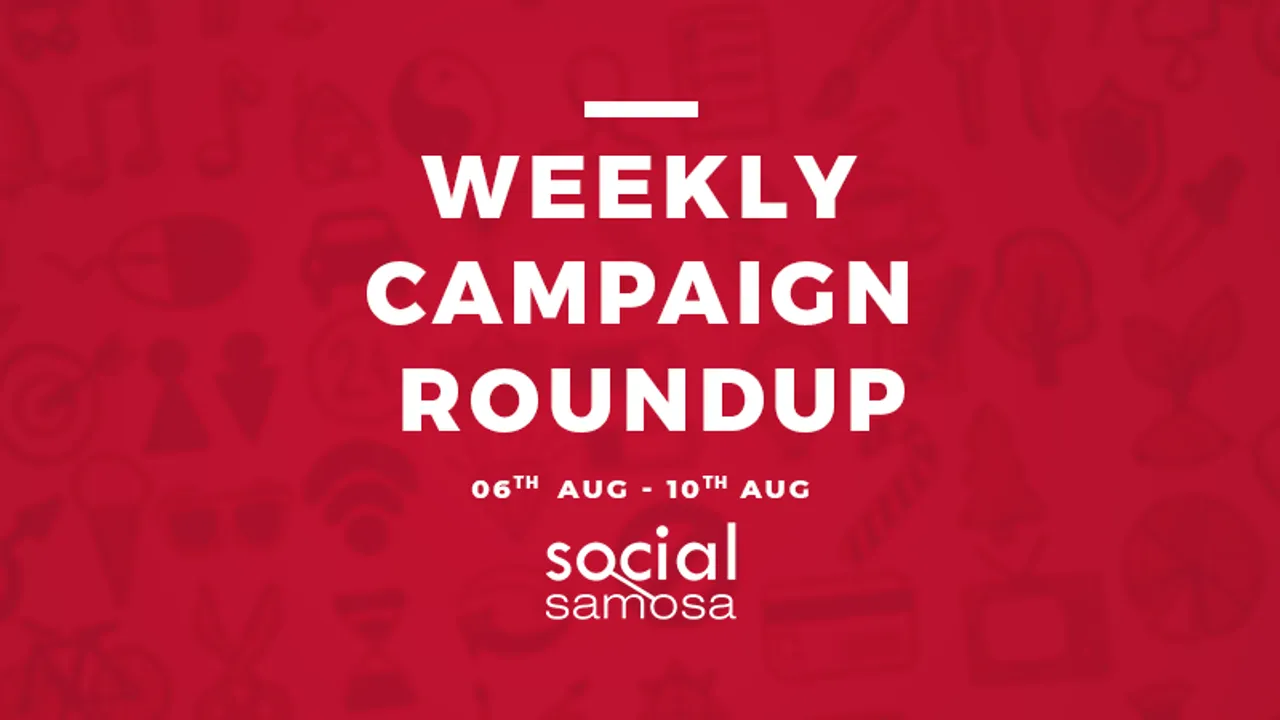 Here's to another week of some impressive work from brands and agencies all over the world. Check out some of the social media campaigns that were rolled out this week.
Social Samosa's weekly digital marketing and social media campaigns roundup this week features a list of campaigns from brands like Sunfeast, Ola, Puma, Swiggy, Subway to name a few.
This week saw lots of campaigns revolving around Friendship Day. Other campaigns carried social messages such as Swiggy saying thank you to its delivery partners, and Dailyhunt campaigning for language equality.
Learn more about the trending and hottest new social media and digital marketing campaigns with Social Samosa's weekly social media campaigns roundup for a condensed summary of the industry.
Sunfeast Farmlite #LetsTakeCare campaign prompts kids to look after their Mothers
Sunfeast Farmlite biscuits' recently launched online film #LetsTakeCare has sparked much-needed conversations about the sacrifices a mother makes, which take a toll on her health. Read more about it here.
Brands celebrate Friendship Day with quirky creatives and bite-sized campaigns
The most celebrated and loved modern festival, Friendship Day is the perfect opportunity for brands to showcase their creative minds. It's interesting to see, how creatively brands have weaved Friendship Day campaigns/creatives to connect with their consumers. Read more about it here.
Ola launches a crowdfunding campaign – #RoadToGold
The recent Ola crowdfunding campaign is all about developing grassroots sporting talent – Road To Gold. The campaign aims to support India's collective dream to increase the chances of winning Gold medals at major global sporting events.Read more about it here.
Usain Bolt, Virat Kohli engage in a Twitter challenge
In the latest PUMA campaign, the duo placed a bet on social media and challenged each other in doing the task. Bolt even went ahead to bet his favorite running spikes saying that the new cricketer coming on board is super fast but not as fast as him. Read more about it here.
Swiggy celebrates 4th birthday with a tribute to its heroes – the delivery partners!
On its 4th birthday, Swiggy is celebrating with an ode to the unsung heroes –the delivery partners. A unique way of celebrating by Swiggy, which is thanking and recognizing the value of one of the pillars of their business. Read more about it here.
Dailyhunt launches #HarBhashaEqual to promote language equality in India
Dailyhunt, a news and entertainment content application that provides content in 14 different languages announced the launch of its trailblazing digital campaign, '#HarBhashaEqual'. Read more about it here.
The Viral Office Rant – Kingfisher Ultra's content marketing effort that went viral
Over 5 minutes long, the viral video is a power packed rant about Indians associating long and taxing work hours with hard work, featuring Naveen Polishetty. Read more about it here.
Subway India collaborates with Darshan Raval and Shor Police to create a brand theme song
Subway India is all set to revamp and reach out to their audiences with an upbeat brand theme song – Make It What You Want, with music sensations, Darshan Raval, Bianca Gomes, and Clinton Cerejo. Read more about it here.
How Pulp Strategy leveraged #AIBJagrata as a marketing opportunity for Tupperware
In today's age of cutthroat competition, it is beyond a shadow of doubt that opportunities have become very scarce. Little did anyone know that a random post of All India Bakchod (AIB) on Instagram could be given a spin of marketing. Read more about it here.
Havells releases new campaign to popularize Wires That Don't Catch Fire
A charming tale of friendship or perhaps the innocence of first love – call it what you will, but the ad set in a children's camping trip has many heart-warming moments taking forward the much-remembered product attribute of 'wires that don't catch fire'. Read more about it here.
Check out more social media and digital marketing campaigns on Social Samosa here.