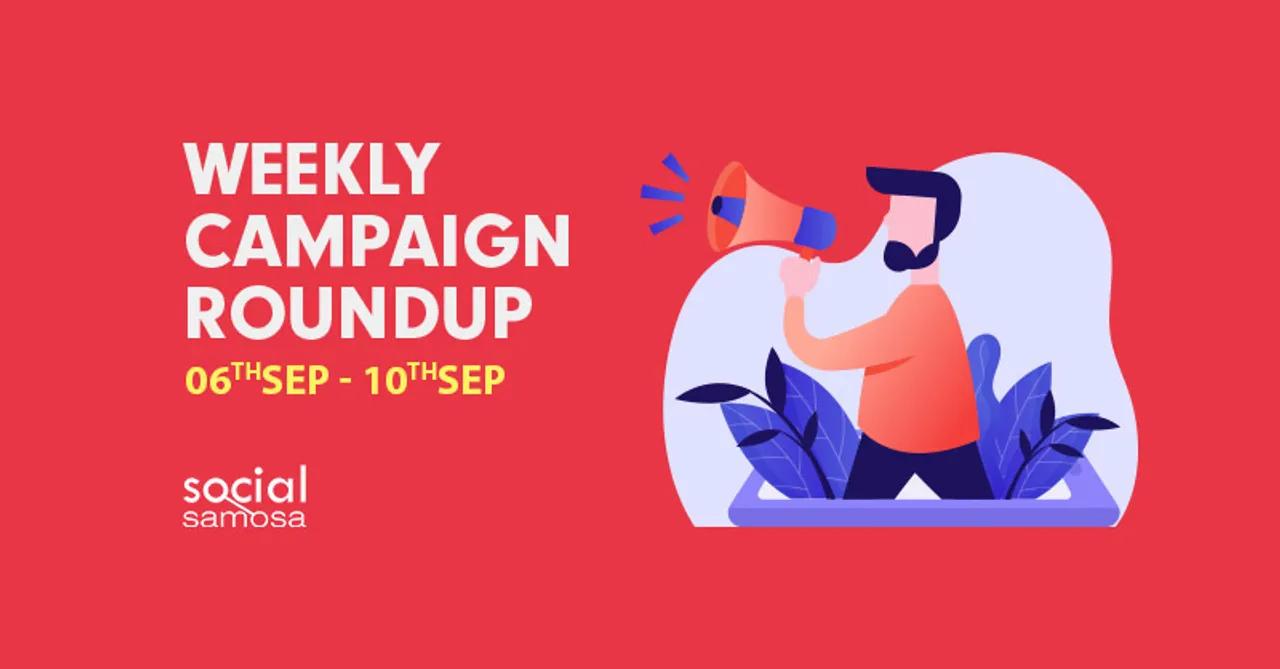 Here's to another week of social media campaigns rolled out along with editorial pieces by Social Samosa.
Social Samosa's weekly digital marketing and social media campaigns roundup this week features an in-depth feature on the pop culture campaign by Cult.fit, Surf Excel's sustainability campaign, the multi-faceted influencer marketing campaign by Durex, and more.
Social Media Campaigns
Surf Excel speaks about sustainability tomorrow in the new campaign
On the occasion of World Clean-up day, Surf Excel announced its transition to 50% recycled plastic bottles with the launch of its latest campaign that aims to bring about a positive change for a sustainable and responsible tomorrow. Read more here.
Influencer Marketing for product launch: Durex's multi-faceted campaign for Extra Thin Flavored Condoms
Targeting consumers satisfied with flavored condoms, and catering to ones intrigued by the thinnest condoms in the market, Durex launched a multi-platform campaign featuring entertainment personalities, for their new product range. Read more here.
Facebook's #MyStory campaign urges to continue taking COVID-19 precautions
Facebook, in partnership with Bill & Melinda Gates Foundation (BMGF), Population Foundation of India, and Love Matters India, has launched #MyStory, a campaign that spotlights the importance of taking continued precautions to curb the spread of the COVID-19. Read more here.
In-Depth
Pop culture is not an option: How the Bollywood angle worked for Cult.fit
Naresh Krishnaswamy, Growth & Marketing Head, cult.fit, and Girish Narayandass and Anuya Jakatdar – scriptwriters for the Fitness Is Not An Option Campaign – take us behind the scenes into the proverbial 'boardroom' as they share the story of the infamous pop culture campaign and the buzz it received…Read more here.
NFT 101: The role of social media in the sale of NFTs
The surge of NFTs is accelerating by the day, as more and more brands, artists, creators, and buyers engage with it. Here we dissect what NFT stands for in the current digital ecosystem and the part that social media plays in the dealing of NFTs. Read more here.
Brand Saga: Badshah Masala, weaving the waft of spices in iconic campaigns…
The Badshah Masala advertising journey is the definition of the term iconic. From their first ad in a Mumbai local train to a sneak peek in the memories of creating their most iconic campaign – 'Swadh Sugandh Ka Raja', in this chapter of Brand Saga, we bring to you stories, unheard. Read more here.
Scroll Through
Teacher's Day 2021 Campaigns: Brands celebrate the gurus who helped us through a year of change
With Teacher's Day, 2021 brands pay tribute to the ones who mold our lives with their undying passion and commitment. Read more here.
Google India regional ads leaderboard: Britannia Good Day & Sonalika Tractors India hold top 2 spots
YouTube has released its regional language Ads Leaderboard, which covers campaigns from Tamil, Telugu, Bengali, and Malayalam languages that were most viewed in H1 2021. Read more here.
Amul Macho alleges Lux Cozi duplicated their popular 2007 ad
JG Hosiery, the apparel manufacturer that owns Amul Macho has filed a complaint with ASCI against Lux Cozi for plagiarism; the self-regulatory advertising body has accepted the grievance for further review and scrutiny. Read more here.
3 ways real estate brand Zillow is including kids in their social media marketing plans
Families with kids have a lot on their plate while taking a real estate-related decision, the online real estate marketplace, Zillow is addressing such concerns via social media marketing, with kids being an integral part of the communication. Read more here.
Reels Strategy: How Netflix India uses reels harping on viewer aspirations of dressing up as characters
Social Samosa takes a look at how Netflix India is including makeup tutorials and dress challenges in their Instagram Reels Strategy, inadvertently creating eCommerce affinity that would be beneficial to the OTT platform if and when Netflix Shop rolls out in the country. Read more here.
Global Samosa
Lyse campaign series blends humor with reliability to promote skincare
The campaign series of five 15-second adverts by Thailand-based skincare brand Lyse revolves around assignment deadlines, binge-watching, couple's banter, and much more, with skincare taking up the top priority in each scenario. Read more here.