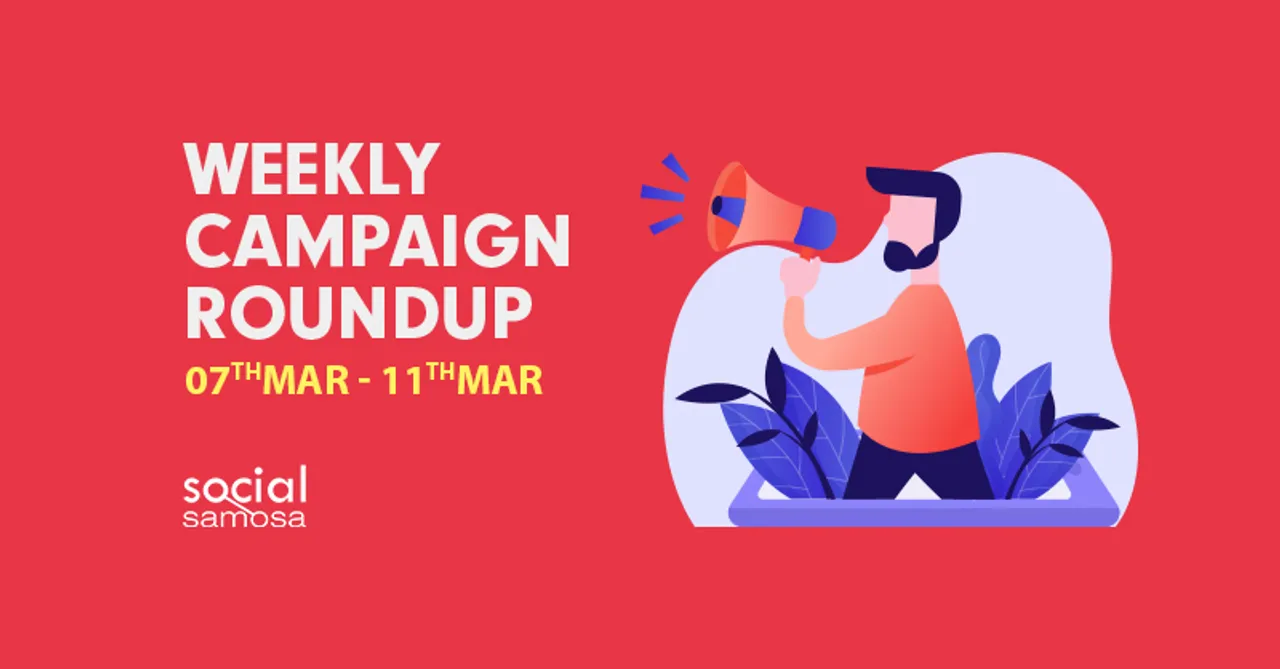 Here's to another week of social media campaigns rolled out along with editorial pieces by Social Samosa.
Social Samosa's weekly digital marketing and social media campaigns roundup this week features Snapdeal's women's day campaign, Lay's campaigns, and more.
Social Media Campaigns
vivo spreads 'Joy of Equality' through its Women's Day campaign
Conceptualized by Dentsu Impact, vivo India's International Women's Day campaign highlights the gender biases meted out to women and how they are asked to 'pose' for society, instead of being encouraged to be themselves and follow their own choices. Read more here.
Snapdeal Women's Day campaign lauds all fearless female leaders out there
This International Women's Day, Snapdeal created a foot-tapping anthem, #MainTaiyaarHoon, featuring women trail-blazers who have managed to create a mark on the society. Read more here.
The Pink Foundry spreads the message of 'You are stronger than you think' in Women's Day Campaign
Featuring personalities like Aisha Ahmed, Akanksha Sharma, Kritika Kamra, amongst others, The Pink Foundry's recent campaign showcases these brave hearts talking about their everyday victories as they highlight what strength truly means to them. Read more here.
In-Depth Features
Expert Speak: Representation of women in ads – how close are we to reality?
Social Samosa in conversation with women leaders from the advertising industry examines the evolution of the female role models in ad campaigns, understanding if the representation of women in ads is at par with the real-world challenges and truths. Read more here.
Hello Sunshine: How Reese Witherspoon propelled female-oriented narratives with one great idea
Reese Witherspoon turned her passion for reading and supporting female authors into a sustainable stream of opportunities with her book club and production house; here we explore how Hello Sunshine turned into a larger platform on the back of good social media and a great idea. Read more here.
Proliferation of social media helped us engage with customers more meaningfully: Saakshi Verma Menon, Kimberly-Clark India
Discussing how Huggies is stepping up its digital capabilities, Saakshi Verma Menon of Kimberly-Clark India shares brand's overall marketing and e-commerce strategy targetted at new-age parents. Read more here.
Scroll Through
Women's Day 2022 – Brand campaigns attempt to create conversations around #GenerationEquality
Women's Day 2022 Campaigns are aligned with this year's theme of building an equitable and inclusive world where we have broken the bias and laid the foundation of #GenerationEquality. Read more here.
Flipkart issues apology after facing backlash for its Women's Day message
A message from Flipkart promoting kitchen appliances on International Women's Day sparked an outcry on social media, resulting in the ecommerce platform issuing an apology. Read more here.
From Tazos to talk time on the phone – Here's a look at some of the best Lay's campaigns…
We take a throwback at some of the most prominent Lay's ad campaigns – from their days of competing with Uncle Chips through Tazos to their more recent youth engagement initiatives. Read more here.
Global Samosa
Gucci Beauty Network focusses on getting female representation right
Gucci beauty Network, a campaign to promote Gucci Makeup lipstick collection overthrows the flawless beauty standards and highlights imperfection as the archetype of genuine beauty. Read more here.