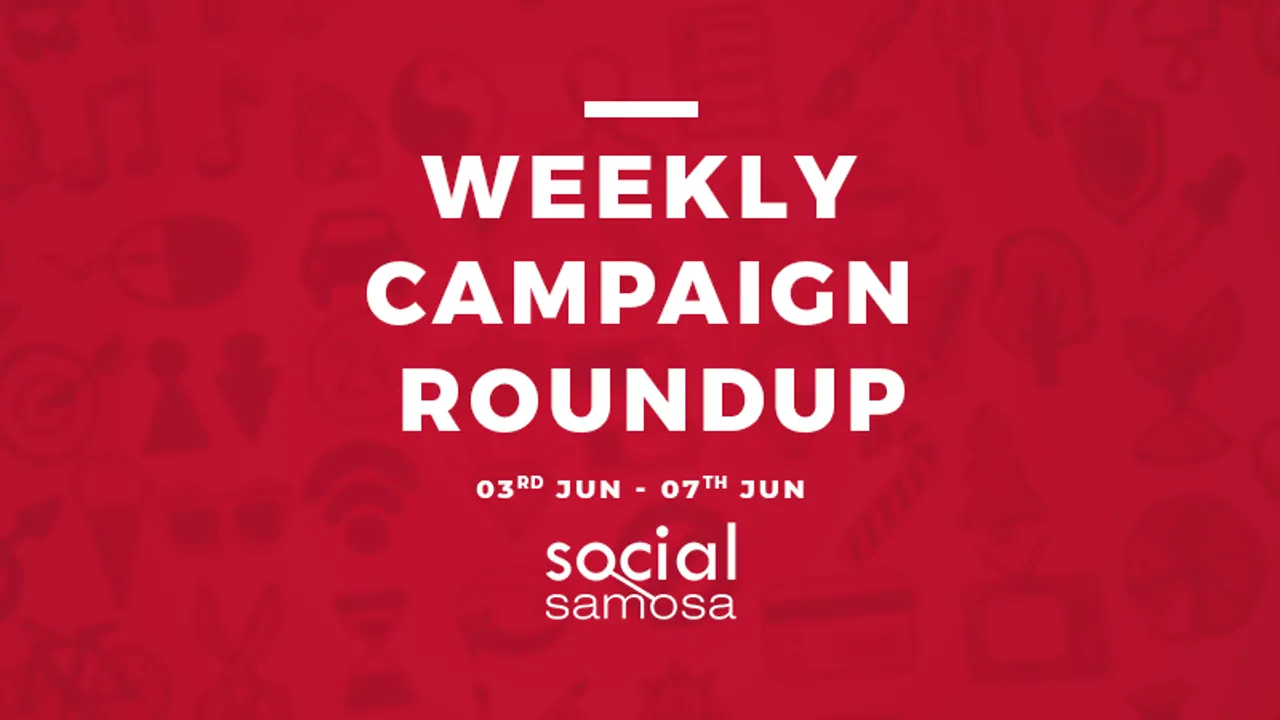 Here's to another week of some impressive work from brands and agencies all over the world. Check out some of the social media campaigns that were rolled out this week.
Social Samosa's weekly digital marketing and social media campaigns roundup this week features an #ExpertOpinion on whether couple brand endorsers are worth investing in, cause marketing & #WorldEnvironmentDay campaigns, a comprehensive list of ICC's Commercial Partners this #CWC19, and more.
Learn more about the trending and hottest new social media and digital marketing campaigns with Social Samosa's weekly social media campaigns roundup for a condensed summary of the industry.
Expert Opinion: Of Virushkas & #DeepVeers! Are Couple Brand Ambassadors worth investing in?
Having an influential brand endorser can positively impact your audience's choice, but can two successful & influential brand endorsers double the impact? Social Samosa investigates the impact of couple brand ambassadors in the aftermath of some of the biggest celebrity weddings. Read more here.
Tata Pravesh's attempt to ignite a moment with #ChoiceOfTheNation…
The Tata Pravesh post-election campaign, Pehla Din, aimed to celebrate the will of the nation. Our experts drop in their verdict on what the message holds. Read more here.
From Anthems to World Cup tickets: A look at ICC World Cup 2019 Campaigns
ICC Cricket World Cup has commenced in England & Wales and brands are making the most of it's 1 billion fans with blazing trails. Take a look this comprehensive list of ICC World Cup 2019 Campaigns. Read more here.
Pepsi launches a Snapchat Interactive Lens for Har Ghoont Mein Swag
Snapchat has partnered with beverage brand Pepsi to create the platform's first Interactive Augmented Reality (AR) Lens in India. The Lens is a part of Pepsi's 'Har Ghoonth Mein Swag' summer campaign. Read more here.
Vigo Video launches goes to the masses with first integrated campaign
The #DekhteRehJaoge brand campaign is inspired by Vigo Video's mission to connect real people with real stories from their communities. Read more here.
#CWCSpot: Daniel Wellington's World Cup campaign is all about celebrating the Men In Blue
Daniel Wellington World Cup campaign, #OurMomentIsNow featuring Ayushmann Khurrana and the Men in Blue tells the world 'This is our Moment'. Read more here.
Global Spot: Brands get bold with FIFA Women's World Cup 2019 campaigns
The 8th edition of the FIFA Women's World Cup 2019 has gotten brands to speak about the pertinent subject of 'Gender Parity' with bold and motivational content as a part of FIFA Women's World Cup 2019 campaigns. Read more here.
World Environment Day: Brands take the onus of spreading awareness!
From videos to creatives, let's take a look at some of the World Environment Day 2019 campaigns & creatives seen this year. Read more here.
Trends' #BanoBayGharz celebrates the spirit of selfless love!
Trends champions the cause of #BanoBayGharz, urging consumers to celebrate the festival, narrating the story of a young girl. Read more here.
All you need to know about ICC Cricket World Cup 2019 official brand associations
Social Samosa presents a comprehensive list of all the ICC Cricket World Cup 2019 sponsors and commercial partners for an understanding of how various brands approach marketing through cricket. Read more here.
Eid campaigns 2019: Brands that shone bright
Eid is here and so are we, bringing you a slice of how brands are leveraging the celebratory season with Eid campaigns 2019. Read more here.
Almosafer takes the spirit of Ramadan from Middle East to the world
Almosafer Ramadan campaign shows how travel unites people as a child takes the spirit of Ramadan to a place that hasn't experienced the festival. Read more here.
Edelweiss' #RetireYourWorries digital campaign shows the reality of retired life
Edelweiss launched #RetireYourWorries – a digital campaign which emphasizes on the facts and the reality of retired life. Read more here.
#CWCSpot: A look at UC Browser's content strategy for ICC World Cup 2019
UC Browser roped in three cricketers to offer comprehensive cricket coverage through exclusive commentary, score updates, short videos, GIFs, and memes this ICC World Cup. Take a look at the detailed UC Browser World Cup content strategy. Read more here.