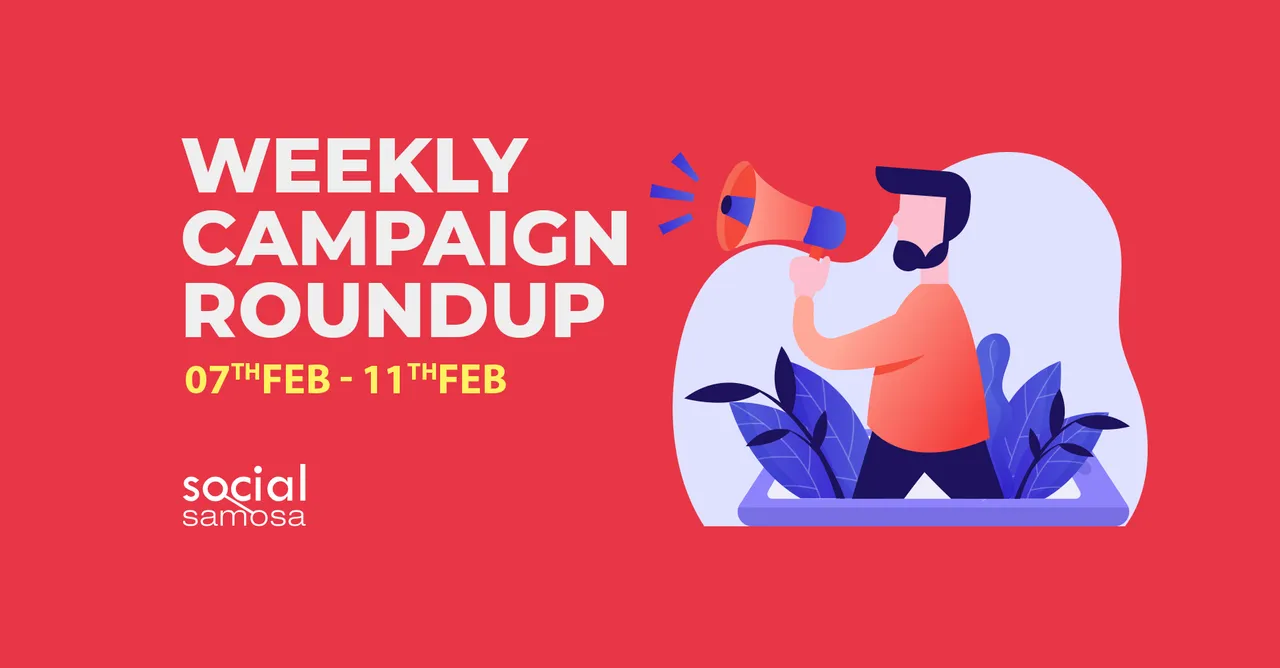 Here's to another week of social media campaigns rolled out along with editorial pieces by Social Samosa.
Social Samosa's weekly digital marketing and social media campaigns roundup this week features Whatsapp collaboration with Yuvaa, an in-depth feature on Crypto marketing, and more.
Social Media Campaigns
WhatsApp collaborates with Yuvaa to launch #TakeCharge campaign
With the #TakeCharge campaign, Whatsapp aims to raise awareness about online safety, encouraging people to understand the various safety tools and resources. Read more here.
HDFC Life's BounceBack Batch campaign speaks about rising from challenges post COVID-19
The latest brand campaign, BounceBack Batch, by HDFC Life highlights the importance of financial planning along with the support of loved ones in overcoming challenges. It is available across multi-media platforms including Television, Digital, and DTH. Read more here.
Coca-Cola India unveils Coke Tables campaign with Diljit Dosanjh for Punjab market
The singer Diljit Dosanjh has unveiled Coca-Cola's new campaign "Coke Tables" which will go live on TV channels in Punjab and will also have a digital leg. It aims to bring people together to share their meals with the beverage to create magical moments of togetherness. Read more here.
In-Depth Features
Crypto Marketing In India – Communicating & engaging to educate
Cryptocurrency is a financial instrument currently booming on social media as a topic of discussion. With newer brands emerging in this sector, here we explore crypto marketing in India and formats used for promotions. Read more here.
Expert Speak: A sassy social media wave helmed by Quick Commerce Apps
Social Samosa digs deeper to understand how quick commerce apps have begun to integrate customer service channels with social media to provide a seamless experience, while also being the sassiest brands out there online. Read more here.
Expert Speak: All you need to know about the Open Web
In conversation with Social Samosa, on the role of Open Web in India's digital future, experts share what it means to go beyond the Walled Garden of advertising ecosystems and how Open Web can revolutionize communication. Read more here.
More than medium selection it is critical to align to consumer behavior on different platforms: Sudhir Nair, Berger Paints
How content and social media marketing can make a painting brand, a part of daily consumer conversations? Sudhir Nair from Berger Paints gives an insight into their marketing strategy. Read more here.
Scroll-Through
All you need to know about the Hyundai Pakistan Kashmir tweet fiasco
The automaker has been receiving backlash from Indians after the Hyundai Pakistan unit shared solidarity messages on social media over Kashmir. Here's all you need to know. Read more here.
KFC, Pizza Hut, Domino's, Kia Motors draw flak over Kashmir Solidarity posts
The international brands are being called out in India for their Pakistani arms showing support on Kashmir Solidarity Day. KFC and Pizza Hut India release a statement, FADA joins the conversation & Hyundai releases a follow-up statement. All you need to know… Read more here.
Khaby Lame – The TikToker who took over social media without speaking a word
Khaby became a viral sensation on social media during the pandemic and his rising popularity has been attracting brands worldwide. Here's a look Khaby lame and some of his brand collaborations. Read more here.
Global Samosa
Super Bowl 2022 Campaigns: The Big League's showcase
Super Bowl 2022 sets a new record with ad slots at whopping prices being sold out, here is the showcase of campaigns displayed at this monumental event, packing big budgets, comedic narratives, high-profile celebrities, and much more. Read more here.
Spirited campaigns for Lunar Year 2022 celebrating the Year Of Tiger…
As the year of Tiger commences, many brands have come up with Lunar Year 2022 campaigns for the China and SEA market. Here's a look at some of them. Read more here.